Many dead in Australia boat crash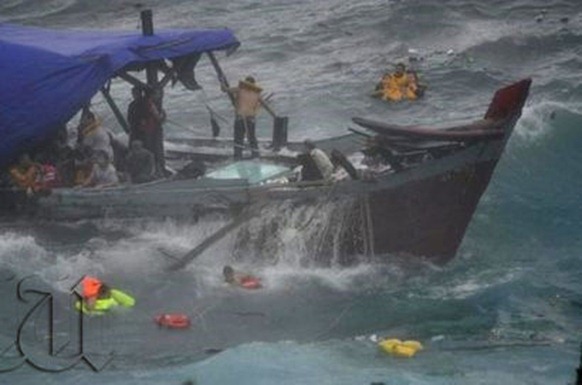 At least 27 people have been killed after a boat carrying asylum seekers crashed into rocks at Christmas Island, officials have said.
The Australian Customs and Border Protection Service said in a statement on Wednesday that 27 bodies had been recovered from the water. Forty-one survivors were plucked from the seas, and one person made it to shore.
Seventy asylum seekers were said to have been on board. Christmas Island is where an Australian refugee detention centre is located
According to a spokeswoman from the Australian Flying Doctors service, which has sent teams of doctors to the island, at least 30 people were injured, three critically.
Officials also told Reuters news agency that they believed most passengers were of Middle Eastern origin.
Television footage has shown the boat rammed bow first onto the rocks, splintering and sinking, and its passengers, including women and children, were thrown by waves against sharp rocks.
Wreckage
The images also show people floating in the water amid the wreckage. The boat was about six to nine metres long, with a cabin covered by a sheet of fabric or plastic.
The Australian government meanwhile announced that Julia Gillard, the prime minister, will return from leave to be briefed on the situation.
Simon Prince, a local resident who lives next to the cliff where the boat crashed, told the Associated Press he was woken early on Wednesday by what he thought were cheers.
He walked outside to the cliff and instead heard cries for help from a boat just offshore.
"The engine had failed,"  he said.
"They were washing backward and forward very close to the cliffs here, which are jagged limestone cliffs, very nasty."
"When the boat hit the cliff there was a sickening crack. All the people on board rushed to the land side, which is the worst thing they could do, but I don't think anybody could swim. I think there were about two lifeboats on board this thing," Prince said.
Christmas Island, located south of Indonesia, is a regular destination for boats carrying asylum seekers and is home to Australia's main offshore immigration detention centre.
Rescuers said the stormy seas and the island's jagged coastline made rescuing those on board the vessel very difficult as the island does not have a protected harbour in which to land people.
In recent years, many asylum seekers have come from Sri Lanka, Afghanistan, Iran and Iraq. Generally, they first fly to Indonesia and then continue on to Australia in cramped, barely seaworthy boats.
(For updates you can share with your friends, follow TNN on Facebook, Twitter and Google+)