UN Extends Sri Lanka Panel Entry Deadline to End of 2010, Trip Before Jan 15?
The UN has quietly extended the deadline for submission to its Sri Lanka war crimes Panel of Experts until the end of this month, acting Deputy Spokesman Farhan Haq told Inner City Press on December 20.
In the run up to the initial December 15 deadline, Inner City Press asked Haq and his office about bounced e-mails and Federal Express overnight packages of evidence which the Panel refused or could not receive. Haq said that he thought an extension would be announced — but then did not announce one.
On December 20, having received more complaints about packages refused by the Panel, Inner City Press again asked Haq about the projected extension. Staring down at note, Haq said it is extended to the end of the year.
Inner City Press asked when the Panel will in fact travel to Sri Lanka. Haq said he had nothing to announced on that, while rephrasing the question to concern only the Lessons Learnt & Reconciliation Commission.
  This is appears to mean that the Panel will not even be asking to speak with, for example, ex General Sarath Fonseca, who has indicated his willingness to testify about war crimes he says were ordered.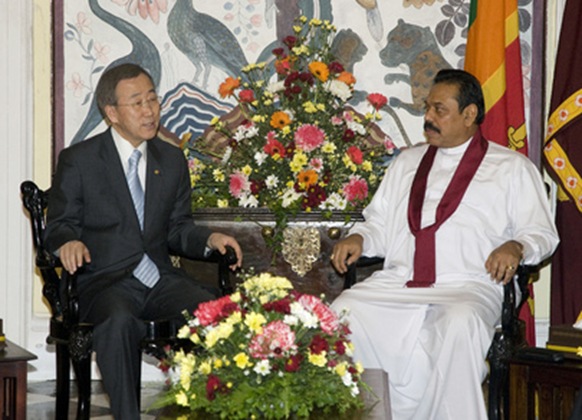 UN's Ban & Mahinda Rajapaksa, rejected evidence and report not shown
As to whether Secretary General Ban Ki-moon will keep confidential the report of his Panel on Sri Lanka, Haq said Ban will decide once it is submitted. Inner City Press asked if the Panel's January 15 deadline is being extended. They are "on track," Haq said. If so, the trip must be soon, and the list of people spoken with would be short.
(For updates you can share with your friends, follow TNN on Facebook, Twitter and Google+)