Boycott campaign highlights Sri Lanka atrocities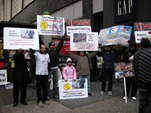 During the first boycott held after the release by Channel-4 of an extended execution video showing extra-judicial executions and the naked body of a popular Tamil journalist with hands tied and the incriminating evidence contained in WikiLeaks cable accusing Sri Lanka' President and brothers of alleged war-crimes, the protest campaigners in several major cities in the U.S. Saturday exposed details of Sri Lanka's atrocities towards civilian Tamils to the consumers patronizing GAP and Victoria's Secrets stores which import garments made in Sri Lanka.
Excerpts from US-TPAC's press release follow:
Despite the freezing cold, the New York activists had a great turnout of Tamil Americans and friends. They handed out over 500 boycott postcards and flyers explaining to prospective shoppers that buying a garment made in Sri Lanka supports genocide. Hundreds of shoppers, New Yorkers and tourists passed the busy corner where the activists have positioned themselves to target the shoppers to the retailers, Gap and Victoria Secret. People were shocked at the extent of the killings of Tamils in Sri Lanka and many of them pledged to check the labels of all apparel they considered buying.
The activists in Old Town Alexandria, Virginia urged shoppers outside a GAP store not to buy any items from Sri Lanka.
In Princeton, New Jersey, a college town with many institutions of higher learning, saw a group of activists with their families joining in the nationwide campaign. The shoppers stopped by the protestors and wanted to know more about the Tamils future actions to reach a political settlement.
n Raleigh, North Carolina a boycott rally was held across from the Crabtree valley mall off Glenwood Avenue from 1:00 pm – 3:00 pm. It is a very busy street and the roads were packed with cars making it an ideal location to reach out to most of the holiday shoppers to the mall.
(For updates you can share with your friends, follow TNN on Facebook, Twitter and Google+)