India offers training slots for Sri Lankan military personnel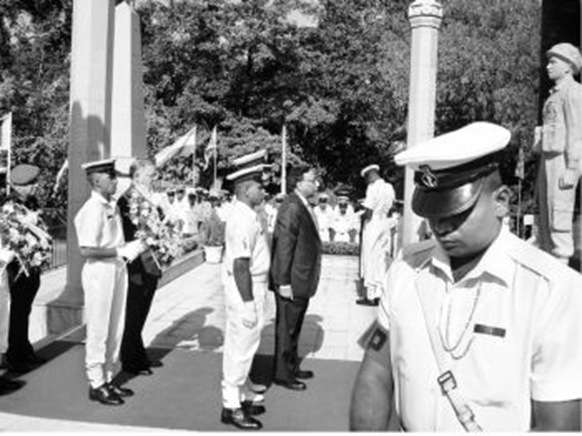 REMEMBERING THE JAWANS:Defence Secretary Pradeep Kumar pays tributes at the IPKF memorial in Colombo on Tuesday. Standing behind him is the Indian High Commissioner to Sri Lanka, Ashok Kantha.
Despite the defence personnel training academies being almost full, India on Tuesday offered training placements for the Sri Lankan security personnel.
This was part of a series of measures that were agreed upon to enhance defence cooperation between the two countries.
The training offer was conveyed by the visiting Indian Defence Secretary, Pradeep Kumar, to Sri Lankan President Mahinda Rajapaksa when he called on the President at his official residence, Temple Trees, here on Tuesday.
During the meeting, it was agreed that the two countries will have a joint naval exercise in the Sri Lankan waters in 2011. Also, an annual defence dialogue and staff-level talks between the Navy and armies of the two countries will begin from next year.
On behalf of the Indian Air Force, Mr. Kumar accepted an invitation to participate in the diamond jubilee celebrations of the Sri Lankan Air Force next year. The Air Force chief is scheduled to come here for talks later this month. The Indian Army chief and the Navy chief had held discussions with their counterparts here.
Expanding ties
Mr. Kumar told Mr. Rajapaksa that the prevailing good defence relationship between the two nations should be expanded and strengthened.
He said the Defence Dialogue should be further expanded to include the Army and the Navy.
"I am happy over the manner in which the discussions went. We will continue the discussions," he told The Hindu.
Mr. Rajapaksa welcomed the initiatives to strengthen defence cooperation, a release from the President's office said.
The decision to institute the annual Defence Dialogue was agreed during a meeting between Prime Minister Manmohan Singh and Mr. Rajapaksa in June.
Earlier, Mr. Kumar paid homage to the Indian Peace Keeping Force (IPKF) troops killed by the LTTE.
(For updates you can share with your friends, follow TNN on Facebook, Twitter and Google+)