As Sri Lanka Brags of Limits on UN War Crimes Panel, UN Stonewalls Press
The UN has apparently agreed to further limit the scope of its Panel on accountability in Sri Lanka, while ignoring and even prohibiting Press questions for two weeks now.
After Secretary General Ban Ki-moon on December 17 bragged that the Panel would travel to Sri Lanka, and praised President Mahinda Rajapaksa for "flexibility," the country's foreign ministry called the trip into question, saying it was only it a response to a newspaper notice by Rajapaksa's own Lessons Learnt & Reconciliation Commission seeking "representations."
Ban's acting Deputy Spokesperson Farhan Haq then said that the UN panel might not travel to Sri Lanka at all, but meet the LLRC elsewhere. Inner City Press at the UN's noon briefing on December 23 asked about this, and about the UN's decision to cancel all noon Q&A sessions in the work week starting December 27.
Haq said that that Panel has a scope beyond the LLRC and that details of the trip would be announced. He claimed that other reporters had asked that noon briefings not be held "so they don't have to come in" to work, but promised Ban's lead spokesman Martin Nesirky would answer questions in the coming week.
Soon it was reported from Sri Lanka that Ban's Panel's chief of staff might be the one to visit Sri Lanka. Inner City Press formally asked Haq and Nesirky to confirm this. Rather than provide a yes or no answer, Haq said the UN building was closed on December 27.
But on December 28 and 29, Nesirky did not answer the question either. On December 29, he had another staff member send answers to other questions, including re-sending a refusal to answer than Inner City Press had already been given weeks previously. On Sri Lanka, nothing.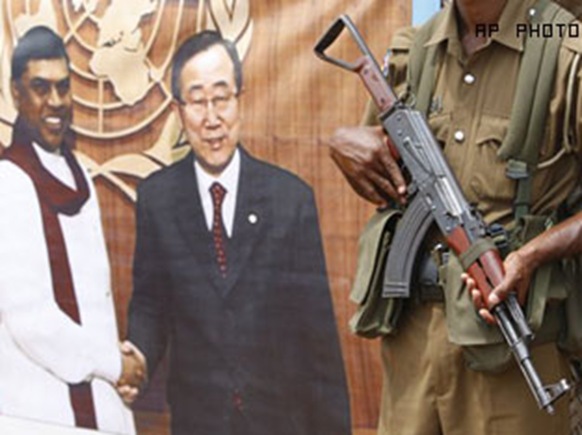 UN's Ban portrayed with Prez brother and gun, answers not shown
After all this stonewalling, it is today reported that
"Cabinet Spokesperson Minister Keheliya Rambukwella said the government would grant visas to the members of the Panel only to go before the government appointed LLRC and not to conduct any investigations on their own. Rambukwella said that the government initially objected to the Panel's visit to Sri Lanka, as it was to conduct an inquiry. However, the government has decided to grant visas to the Panel since it has been stated that the members only wished to meet the LLRC."
  "It has been stated" where? If the UN was engaged in something other than obvious stonewalling, we might know if the UN had stated and agreed to this new limtation on the Panel.
(For updates you can share with your friends, follow TNN on Facebook, Twitter and Google+)