'Endhiran' clones 'Ra. One'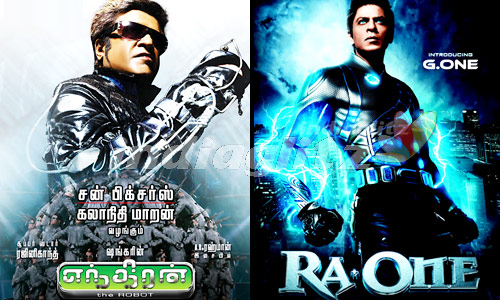 Is the Bollywood Badshah ready with his reply to Super Star's 'Robo'? The first look of Shah Rukh Khan's most ambitious project 'Ra.One' is out.
It is interesting to recall the genesis of 'Endhiran ' to know Shah Rukh Khan's 'Ra.One' better. You all knew director Shankar first went to SRK with the 'Endhiran ' concept and when he fell out with SRK over 'creative differences' in filming the sci-fi flick, our Super Star stepped in and saved the project. 'What 'Endhiran ' did to Indian cinema is now folklore.
At that time Shah Rukh Khan had announced a similar project and that has taken shape now and ready to hit the marquee this year. Shah Rukh Khan, Kareena Kapoor and Arjun Rampal play the central characters in the film. Ra.One means 'Random Access – Version 1.0'.
Much like the 'Endhiran ', SRK's 'Ra.One' is also about Robots behaving like humans and has "breathtaking" visual effects. 'Ra.One' is also about good versus evil. According to sources, Shah Rukh will be seen in a double role in the film. One of his characters is that of a scientist who creates two robots – the good robot G.One (SRK) and the bad one Ra.One (Arjun Rampal).
When 'Endhiran ' released last year, the entire Indian film industry was in awe and the Bollywood started talking about 'Ra.One'. Directed by Anubhav Sinha, 'Ra.One' has music by Vishal and Shekhar along with music maestro Ilaiyaraja.
Now that 'Endhiran' has spawned the first clone, will it behave better than 'Endhiran'? Shah Rukh Khan has produced the film himself under his home banner Red Chillies Entertainment, 'Ra.One' is marked as Diwali release.
'Endhiran' or 'Ra.One'?
Rajinikant or Shah Rukh Khan?
(For updates you can share with your friends, follow TNN on Facebook, Twitter and Google+)