Sri Lanka's attempt at illegal arms deal with Iran, N.Korea exposed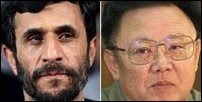 A classified State Department cable dated march 8, 2009, released by WikiLeaks and posted in Norwegian daily Aftenposten, revealed that Sri Lanka's alleged attempts to negotiate arms deal with Iranian Government and North Korean Government violated U.S's Iran Non-proliferation Act of 2000 (INKSNA), and the United Nation's Security Council Resolution 1718 (UNSCR 1718). Lanka Logistics, a Sri Lanka Government owned firm was named in the classified document as the Sri Lanka party involved in the illegal arms deal. Gotabaya Rajapakse, brother of Sri Lanka's President, held the post of chairman of the firm and exercised complete control over arms purchases, according to Colombo media reports.
WikiLeaks: Lethal arms from Iran, N. Korea
"Recent intelligence reports indicate that a Sri Lankan company responsible for the acquisition of equipment and services for the Sri Lankan military is negotiating the purchase of RPG-7 Rocket Propelled Grenade Launchers (RPGs) and Multiple Rocket Launchers (MRLs) from North Korea´s primary weapons trading firm. Some of these proposed arms imports appear to violate UNSCR 1718," the leaked cable said of the North Korean deal.
Iran Non-proliferation Act of 2000
On the illegal attempts at importing lethal weapons from Iran, the cabel said, "Iran´s Ministry of Defense Logistics Export Center (MODLEX) has recently provided a multimillion-dollar quote to the Sri Lankan Navy for the installation of naval equipment. Moreover, an Iranian Islamic Revolutionary Guard Corps Force element located in Sri Lanka provided details to an Iranian shipping company for the sale of weapons to the Sri Lanka Army."
The cable noted that "any arms purchase contracts entered into by Sri Lankan entities with North Korea or Iran, if implemented, could trigger sanctions against the entities involved under the Iran, North Korea, and Syria Nonproliferation Act (INKSNA)."
The leak confirms the recent New York Times story of the alleged Sri Lanka's purchases of rocket launchers from North Korea in the Spring of 2009 despite protests by American Diplomats. A senior Sri Lanka official involved in procurement of arms reacted to the NYT report telling the local media that "there hadn't been any transactions with NK [North Korea] for a long time."
Lanka Logistics also appeared to have played a major role in the beginning of the feud between presidential candidate Ex-General Sarath Fonseka, and the Rajapakses. Fonseka told the Sunday Leader in December 2009 said post war he vetoed a multi-million dollar proposal to purchase further large quantities of artillery shells from China to the value of 300 million US dollars by Lanka Logistics & Technologies Limited — a state-owned limited liability company operating under the Ministry of Defence, Public Security, Law and Order.
(For updates you can share with your friends, follow TNN on Facebook, Twitter and Google+)