As Sri Lanka Speaks of "Conditional Visas" for Ban's Panel, UN Switches to "Potential Visit," No Answer on to Whom Ban Spoke
Eighteen days after UN Secretary General Ban Ki-moon said his Panel on Accountability would go to Sri Lanka, his spokesman Martin Nesirky now openly called it a "potential visit," and refused to answer Inner City Press' questions about who Ban spoke with before his December 17 announcement, and if even the Panel's staff would visit Colombo.
Each work day between Christmas and New Years, Nesirky refused to answer six questions Inner City Press asked each day. Nesirky insisted, as he did on January 4, that he has "no new guidance" from the Panel.
  Nesirky told Inner City Press that "between Christmas and New Years [we had] a number of exchanges… nothing has changed in the guidance I have for you." Video here, from Minute 6:32.
That is, that Ban and his Panel refuse to provide Spokesman Nesirky with information as basic as who in the Sri Lankan government they spoke with.
With public reports now speaking of "conditional visas" and the Panel being limited to "making representations" to the Lessons Learnt & Reconciliation Panel set up by President Mahinda Rajapaksa, whose brother directed military operations during the bloody events in 2009, Nesirky claimed that "we were fairly clear on where things were, and they remain there." What?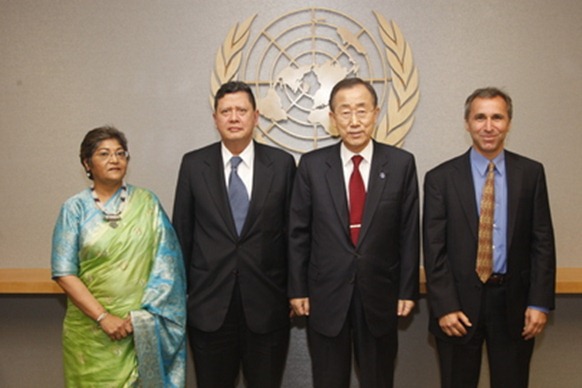 UN's Ban and his Panel: no guidance on switch from Dec. 17 statement
Ban's acting Deputy Spokesman Farhan Haq has twice told Inner City Press that Ban's Panel's work goes beyond speaking with the LLRC. But then, without answering any of Inner ity Press' pending questions, he told BBC's Sinhalese service that perhaps Ban's panel, contrary to what Ban said on December 17, will NOT go to Sri Lanka.
Did Ban Ki-moon actually have an agreement from the Rajapaksa administration — apparently absent its minister of external affairs G.L. Peiris — for a less restriction visit to Sri Lanka by his Panel? Or did he agree that his Panel would only "make representations" to the LLRC members? This should be clarified, but Ban's spokesmen have refused to.
(For updates you can share with your friends, follow TNN on Facebook, Twitter and Google+)