People smugglers prey on India's Sri Lankan refugees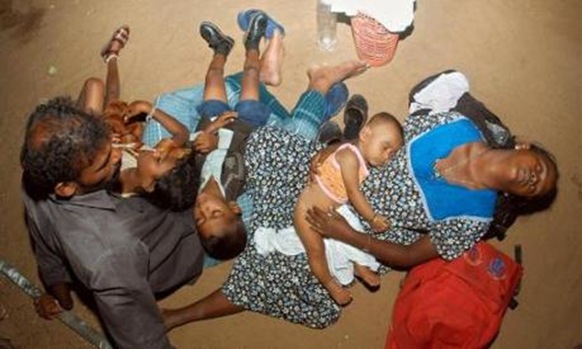 Hundreds of Sri Lankan refugees in India are risking their lives every year to make dangerous sea voyages to third countries like Australia after being preyed on by people smugglers.
      Aid groups and the police have launched campaigns warning refugees of the perils of making such trips following a recent rise in reports of smugglers trying to entice people to migrate illegally.
    Sri Lanka's 25-year-old civil conflict, which ended in 2009, saw tens of thousands of Tamil refugees fleeing to neighbouring India.
    Most have settled in the southern state of Tamil Nadu where they live in camps. Aid workers say agents working for organised smuggling rackets are taking advantage of the refugees' vulnerability.
    "They tell them that life is rosy in countries like Canada and Australia and that they will get good jobs with lucrative incomes," said S.C. Chandrahasan, director of the Organisation for Eelam Refugees Rehabilitation, an aid group working in the camps.
    "People then obviously get the wrong impression and don't realise the hardships that they will have to undergo to get to those countries and get lured by the promise of a better life."
    Aid groups say they are particularly worried that many are putting their lives at risk to reach their dream destination – packed onto crowded ramshackle fishing boats for weeks in turbulent seas.
    Reports are becoming increasingly common of illegal migrants dying at sea after their boats capsize.
    Last month, 30 people died when a crowded refugee boat crashed into rocks on Australia's Christmas island. Most of the refugees were from Iraq.
DETENTION, ASYLUM OR SENT BACK
    According to aid groups, there are around 73,000 refugees living in 115 camps across Tamil Nadu.
    The Indian authorities have been providing them with shelter, food, health and education services as well as financial allowances.
    Over the years, children have been born in camps, refugees have married one another and many have gained educational and vocational skills in India.
    Officials say while many have assimilated in India or are interested in returning to Sri Lanka now that the war is over, there are still many who believe their future lies in wealthier nations.
    "There have been a lot of reports of agents hanging around the camps and approaching refugees saying that if they pay a hefty amount of money, they will prepare fake documents and passports and arrange their transportation," said a police official in Chennai, capital of Tamil Nadu.
    He said refugees pay up to 30,000 rupees ($660) to the human smugglers – a large amount for a refugee who does not have an income.
     Social activists and officials say life is not easy for those who make it to another country.
    Authorities in places like Australia and Canada, where there is a high migrant population, are under increasing political pressure to tighten immigration policies.
    Last year, the Australian government's decision to suspend asylum claims from Sri Lankans and Afghans was branded "inhumane" by aid workers who said it was a political decision ahead of elections.
    In Canada, lobby groups are urging authorities to overhaul the immigration and refugee system, saying the influx of people threatens to overwhelm social services and drive up employment.
    Sri Lankan officials in India say over the years thousands of refugees have tried to seek asylum in Australia and Canada.
    "Some are sent back, some are languishing in detention centres and some who fit the asylum criteria have been granted permission to stay," said Sugeeswara Senadhira, minister counsellor at the Sri Lankan High Commission in New Delhi.
(For updates you can share with your friends, follow TNN on Facebook, Twitter and Google+)