LTTE former commander Yaan's wife witnesses on SLA war crime
 Bearing witness in front of Mahinda Rajapaksa's Lessons Learnt & Reconciliation Committee (LLRC) in Maanthai West in Mannaar on Sunday, Mrs R. Mironio, the wife of LTTE's former Mannaar commander Antony Rayappu alias Yaan, said she has not heared from her husband or not told of the whereabouts of him after he surrendered in front of her in SLA controlled territory in Mullaiththeevu on 18 May 2009. The surrender was facilitated by facilitated by Catholic Priest Rev. Fr. Francis Joseph, she said. The priest was also taken with her husband, but noone have heared about them, she said.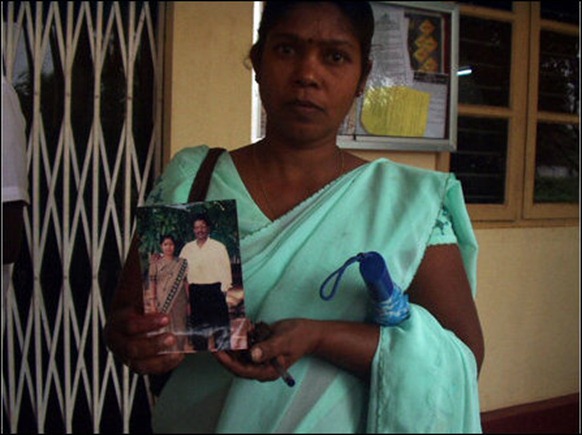 Mrs Mironio said she witnessed her husband and at least 40 others were among a group of surrendees, who were taken into a bus along with Fr. Francis Joseph, whom they had approached to help facilitate the surrender. She named Velavan, Babu, Eezhavan, Ilamparithi, Kumaran and Roopan among the group.
She was moving with her husband throughout the war and on 16 May 2009, she and her children went into the SLA territory in Mullaiththeevu.
The next day, on 17 May, her husband joined her at Mullaiththeevu with others and on 18 May they surrendered within the territory of the SLA in front of her eyes, she said. Despite her repeated requests at various levels, no information was available on the whereabouts of her husband she told the LLRC urging the commission to help her locate her husband.
40-year-old Mironio said she was living with her aged parents and three children under difficult conditions in Pa'ndivirichchaan.
On Sunday the LLRC commission arrived in Madu AGA office to learn lessons from Maanthai West, 3 hours later than the scheduled time, at 12:30 p.m. and met people until 2:00 p.m. Although more than 200 people were present to witness before the commission, only twenty were allowed, including catholic priest Rev. Fr. Muralitharan, who was the first to appear before the Commission at the session.
Last year, in LLRC proceedings in Vanni, Ananthi Sasitharan, the wife of former LTTE Political Head of Trincomalee Elilan and in Jaffna, the wife of Yogaratnam Yogi, a senior member of the LTTE, Gowri Shanmuganathan, the wife of Shanmuganathan, the former official in charge of marriage wing of the Tigers and Arivumathi, the wife of Vijithan, a key person in LTTE political division had witnessed stating that they had not heared anything about their husbands, who entered SLA controlled area unarmed and were taken away by the SLA at the last stage of Vanni war in 2009.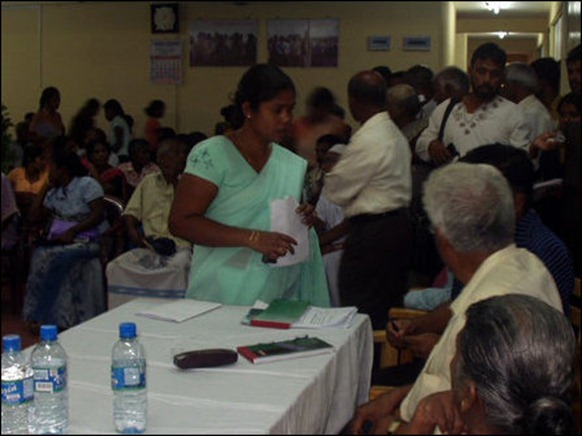 (For updates you can share with your friends, follow TNN on Facebook, Twitter and Google+)