On Sri Lanka, UN Panel Delays Report into Next Month, Travel UNclear
On war crimes in Sri Lanka, UN Secretary General Ban Ki-moon belatedly set up a Panel of Experts, saying that their work would be finished, and report provided, by January 15. On December 17 he announced that the Panel could travel to Sri Lanka, and thanked President Mahinda Rajapaksa for his "flexibility."
Since then, the government of Sri Lanka has said visas would only be granted for Ban's Panel to "make representations" to Rajapaksa's own Lessons Learnt & Reconciliation Commission. Inner City Press has asked whom Ban spoke with before his December 17 announcement, and whether the Panel members or their staff are in fact going to Sri Lanka. Neither question has been answered.
With the January 15 deadline coming, Inner City Press on January 13 asked Ban's spokesman Martin Nesirky if the Panel will turn in its report on time, and if they have traveled or will travel to Sri Lanka.
Nesirky said he would look into it. While Inner City Press did hear back from Nesirky's Office for the rest of Thursday, apparently late on Thursday an answer was inserted into the transcript, as if it had been given to Inner City Press. (See below). Then on Friday this e-mail arrived:
From: UN Spokesperson – Do Not Reply [at] un.org
Date: Fri, Jan 14, 2011 at 8:16 AM
Subject: Your question on Sri Lanka
To: Inner City Press
The Panel expects to submit a report sometime in February.
So Panel's deadline was silently extended, just as it ostensibly extended its deadline for submission of comments and evidence, after many e-mails bounced from the Panel's full mailbox and overnight mail packages were refused, no one to receive them.
The rationale for this extension would seem to be the visit to Sri Lanka announced by Ban Ki-moon on December 17. But the UN has refused to say if the visit will take place, under what agreed conditions, and with whom Ban spoke before making his announcement. This is flexibility?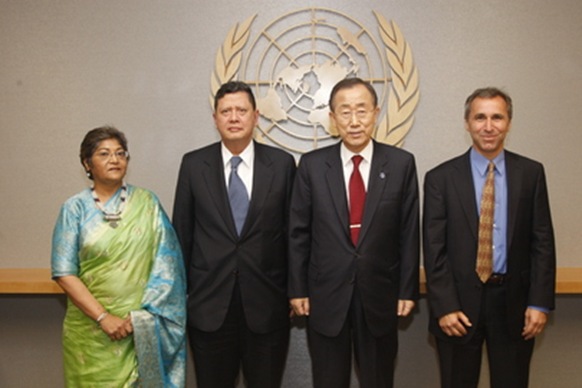 UN's Ban and his Panel: no guidance on switch from Dec. 17 statement
From the UN's supplemented January 13 transcript:
Inner City Press: since there's no noon briefing tomorrow, I just wanted to ask….with the Sri Lanka panel, and it was said that the four months, its work term, expires on 15 January. Is that report going to be turned in on that date? Has there been any — you know, on the Secretary-General's statement of 17 December, that the panel was going to go to Sri Lanka?
Spokesperson: I'll check on both of them for you, Matthew. Okay, thank you very much and have a good afternoon.
(For updates you can share with your friends, follow TNN on Facebook, Twitter and Google+)