Rajapaksa rules out police powers for North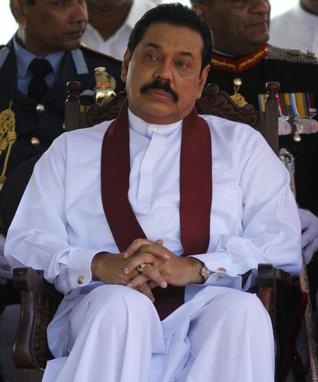 Reaffirming his commitment to "13 plus" [13th Amendment with additional powers] formula to bring about an amicable political solution to the Tamil question, Sri Lankan President Mahinda Rajapaksa, insisted that "what the plus will be" should be a product of hope and aspirations of the people of Sri Lanka.
Asked if police powers would be part of the "plus," the President categorically said, "No… It's not practical." Pointing to an incident when aircraft of a top politician was not allowed to land in an Indian state, he said, "We do not want such problems."
The solution will be arrived at in consensus with all political parties depending on the proposals they make. Power sharing with the centre "is very much on the table." He was speaking to foreign correspondents stationed in Sri Lanka over breakfast on Friday.
On the broad process that the consensus will involve, he said that once the Tamil parties and the government discussed the issues threadbare, the solution would also be discussed with the country. Then the solution could be fine-tuned for implementation. He repeated what he had told The Hindu in an interview before — that he had a solution in mind but was not in a position to reveal it.
Demining and rehabilitation
Mr. Rajapaksa said that the rehabilitation process was continuing in the North and this was independent of the de-mining activity. Asked for a time-frame for the de-mining to be completed, he said that it would take at least another six months.
But this did not stand in the way of rehabilitation. Only 7,000 persons were left in the camps for the internally displaced. "We want to send them out also. But they have nowhere to go," he said.
Asked if most of the 50,000 houses being built would be new, he said that for now, the pilot project of building 1000 houses had commenced. This was on schedule.
Big change in attitude of Western countries
Asked if the recent observation of the Canada Immigration and Refugee Board — that merely because one is a Tamil, his or her life is not in danger — meant that the West was warming to Sri Lanka, President Rajapaksa said that there was a "big change" [in attitudes] in the West. He referred to the arrest of elements of LTTE in countries such as Switzerland and Germany to substantiate his view.
On the rehabilitation of ex-LTTE cadres, he said over 5000 have been already released. "After 30 years of fighting terrorism, we were able to release them in a very short period as 6 months which is not an easy feat. No other country has been able to achieve such success," he said.
On the fate of the hardcore LTTE elements, he said that they will be charged according to evidence.
(For updates you can share with your friends, follow TNN on Facebook, Twitter and Google+)