British Tamil businesses expand networking forum
The Tamil Chamber of Commerce (TCC) in Britain held a key gathering Thursday in east London, attended by eighty local Tamil business owners, as well as local bank managers and politicians. The event, the first of a series planned by the TCC across the country, was to raise awareness of the practical benefits of Tamil enterprises working together, a spokesman said. The London Chairman of the Conservative Business Relations organisation, Paul Shea, told the gathering Prime Minister David Cameron had sent his wishes for the initiative's success. There are five thousand Tamil-owned businesses in Britain, with a combined turnover of over £1 billion and 150,000 employees, the Chamber says.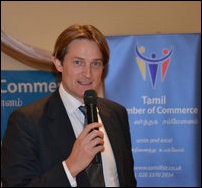 The TCC, a community organisation whose motto is 'Unite and Excel', serves as a forum for Tamil business owners to network and develop business possibilities.
It also provides training and development for young entrepreneurs, including support for getting new businesses up and running, as well legal, financial, accountancy and tax advice.
"[We] work to support the development of the Tamil community in Britain and in their homeland," a TCC representative told the 120 people, including eighty local Tamil entrepreneurs who attended Thursday's meeting and buffet dinner.
The TCC will later seek membership of the British Chamber of Commerce, he said.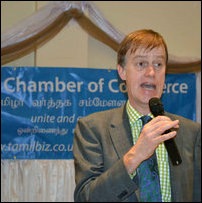 Along with similar events in other parts of London and the UK, the TCC will be organising workshops on specific competencies, such as information technology, accountancy, tax and law, business support and other knowledges for the business community, TCC chairman M. Thiruvasagam said.
Another TCC representative, Suresh Chandran, urged young entrepreneurs in particular to join the TCC and help the community organisation build a strong business links not only within the UK but across the world.
The TCC also distributed copies of its newly-launched quarterly publication, 'Tamil Merchant'. The magazine aims to provide advice by experts and an opportunity for Tamil businesses to showcase their products and services, as well as advertising space for wider sections of UK business.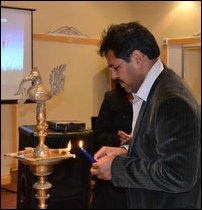 Over dinner attendees discussed business ideas, and were addressed by businesspeople already members of the TCC as well as Stephen Timms MP (Labour, East Ham), a former Conservative party candidate for New Ham, Paul Shea and others. The Mayor of Waltham Forest, Masood Ahmad, was chief guest.
Mr. Shea, Chairman for London of the Conservative Business Relations for London, responsible for engaging with businesses in London on policy issues, told the event: "I saw David Cameron in the House of Commons today, I bring his best wishes."
He drew parallels between the trajectories of Britain's Jewish and Tamil communities and referring to two large Jewish cemeteries nearby, noted how the local area was one of the early places of Jewish settlement in the UK a century ago.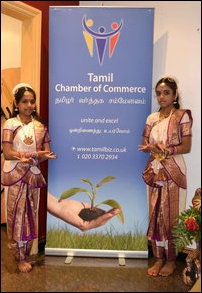 "There are strong parallels between the Jewish community and Tamils," he said. "The first generation struggled, built business, had strong family values. Passionate about the country you come from, about your friends and relatives."
"[Like the Jewish community], the Tamil community will [become] one of the most successful, wealthy and influential in Britain," he said.
In a statement local MP Timms hailed what he saw as a "historic night for the Tamil business community."
"I am particularly pleased that this landmark event is taking place in High Street North, Manor Park, where so many Tamil-owned businesses – and individual Tamil entrepreneurs – are transforming a once drab shopping street into a dynamic, lively and colourful one," he added.
Mayor Ahmad said "we are fortunate to live in London, vibrant and diverse city. The TCC's [work] will contribute to [this]."
The event began with a traditional lamp lighting ceremony and a Bharathanatyam performance.
Lee Scott MP (Conservative, Ilford North) sent a well-wishing letter and his regrets at not being present, as did Keith Prince, leader of Redbridge Council.
At the end of the evening, the Tamil charity THOOKU (www.thooku.org) collected donations from attendees to assist flood victims in Sri Lanka. The TCC said it would match the amount collected.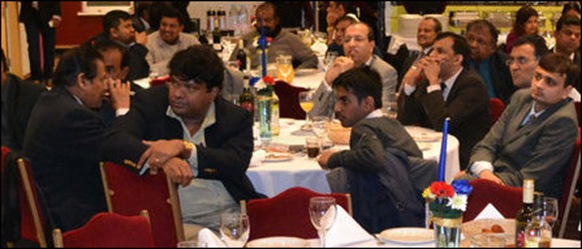 (For updates you can share with your friends, follow TNN on Facebook, Twitter and Google+)