Sri Lanka flood victims vent fury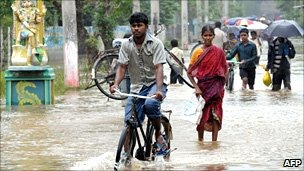 Victims of flooding in Sri Lanka have besieged a government office in the east of the country, accusing officials of holding back relief supplies.
Windows were smashed as more than 1,000 people surrounded the office in a village in eastern Batticaloa district.
Flood victims have told the BBC that some local politicians have been giving food and other aid to their supporters rather than the most needy.
Improvement in the weather has allowed many displaced to start returning home.
Flood victims barricaded staff in the government office in Ariyampathy on Monday after finding aid inside that had not been distributed.
Rice, flour, tents and stoves were among the supplies for nearly 4,000 people that had not been handed out, according to the Associated Press news agency.
UN visit
The BBC's Charles Haviland, who visited the worst affected areas in the east and northern-central part of the country at the weekend, says there has been a big aid operation, but not all of it has gone smoothly.
Nearly 60,000 people remained in camps on Monday, out of more than 300,000 who were displaced at the peak of the disaster last week.
The floods have deluged 11 of the country's 25 districts, ruining crops and leaving at least 40 people dead.
A top United Nations official will visit Sri Lanka on Wednesday to tour the worst affected areas.
Assistant Secretary General for Humanitarian Affairs Catherine Bragg will launch an appeal for funds to help victims.
The UN's World Food Programme is giving out dry food rations to people still displaced as well as those going home.
(For updates you can share with your friends, follow TNN on Facebook, Twitter and Google+)