Stemming migration of medical specialists in Sri Lanka
When healthcare professionals move abroad, domestic health services often suffer. However, a scheme in Sri Lanka is exploiting the positive effects of foreign work placements.
This case study forms part of a selection of entries for the first ever Global Health Workforce Alliance awards, created to highlight successes in addressing health workforce issues. The awards will be presented at the Second Global Forum on Human Resources for Health, which takes place on 25-29 January in Bangkok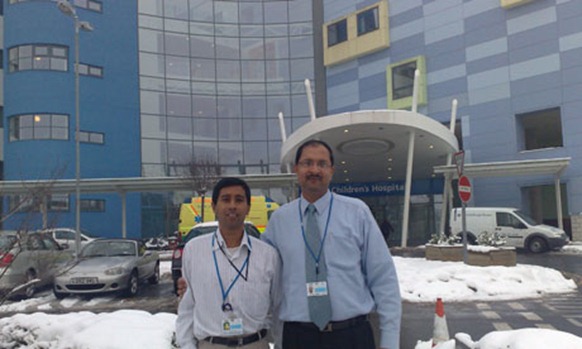 Sri Lankan doctor Anuruddha Padeniya, left, outside the John Radcliffe hospital, Oxford, where he worked during his UK placement. Photograph: GHWA
The Sri Lankan government, like that of other developing countries, recognises the negative effect that migration of medical specialists can have on a country's health system. But it also recognises the positive effects, such as exposure to advanced medical practices and management protocols.
This is why it set up the Foreign Placement Coordinating Centre (FPCC) in 2008, jointly managed by the Government Medical Officers' Association (a trade union) and the Ministry of Health. The FPCC arranges mandatory foreign placements for a period of one to two years for specialists, non-specialist medical officers and postgraduate trainees. This can take the form of a scholarship, which is paid for by the Sri Lankan government (up to a maximum of one year), or a paid job.
The trainee signs a bond with the Ministry of Health guaranteeing to return after they complete foreign training. Two witnesses have to sign agreeing that they will pay the whole training cost if the trainee doesn't return. The trainee then has to work for the government for a period of four years for each year spent abroad.
From 1980 to June 2009, a total of 1,915 specialists went overseas as part of their training. Dr Anuruddha Padeniya, for example, went to work at the Oxford Radcliffe hospital in Februrary 2009 for Mike Pike, a paediatric neurology consultant. "It was a fantastic experience, where I learned a lot," says Padeniya, "especially in terms of better communications with patients and drug management systems."
Since the programme began, even though a large number of medical professionals have trained overseas, only a few of them have migrated permanently. Those who do postgraduate training are mainly from the government sector (about 95%) and remain there even after the training.
This is largely to do with the following incentives offered by the government: the opportunity to engage in unlimited private after-duty hours, higher salary compared with other government service officers, availability of a pension, provision of living quarters for those working in rural areas and better schooling opportunities for their children.
(For updates you can share with your friends, follow TNN on Facebook, Twitter and Google+)