UN Gets Sri Lanka Visa for Fundraising, Not War Crimes Panel, Doormat for Despots
A month after visits to Sri Lanka were announced by UN Secretary General Ban Ki-moon for his Panel of Experts on Accountability, a UN official from New York is finally going to Colombo.
It is not, however, about accountability. Rather, deputy chief of the Office for the Coordination of Humanitarian Affairs Catherine Bragg is going to issue an appeal for money.
At the UN's January 17 noon briefing, Inner City Press asked Ban's spokesman Martin Nesirky to comment on protests about aid non delivery in Batticaloa, and why his Office never responded to these two questions formally submitted to him six weeks ago on December 5, 2010:
Does the UN have any comment on Sri Lanka's government ordering the International Committee of the Red Cross out of Northern Sri Lanka?
Or, as previously requested, on the new rules requiring NGOs and INGOs to register with the Department of Defense, etc?
The latter question was pending unanswered for much longer. The UN's OCHA, whose previously chief John Holmes spoke of the very "bloodbath on the beach" which Ban's Panel appears to be skirting around without investigating, has not commented on the expulsions of and restrictions on humanitarian NGOs and even INGOs.
Nevertheless on January 17 Nesirky, who had not announced Bragg's visit among the press releases he read at the beginning of the noon briefing, would not even confirm or explain Bragg's visit. He twice told Inner City Press to "ask OCHA," the UN arm which has refused to comment on restrictions on humanitarian NGOs in the country they will now ask for money for.
Inner City Press asked Nesirky to state when and under what conditions Ban's Panel will or will not go to Sri Lanka, now in light of UN official Ms. Bragg's fundraising trip.
  Nesirky insisted that the "Secretary General has answered your questions," apparently referring to Ban's January 14 comment, after a press conference in which Nesirky refused to take a Sri Lanka question, that the members of his panel "are now working very seriously on finalizing the dates of visiting Sri Lanka."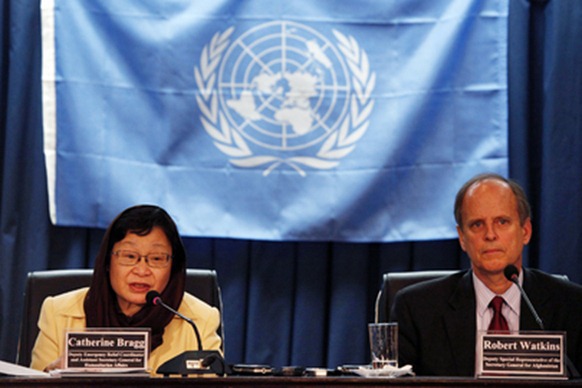 UN's Bragg elsewhere, Lanka visas for Ban's Panel on Accountability not shown
Inner City Press then asked about "the government has said they can only talk to the LLRC [Lessons Learnt & Reconciliation Commission], that they can't investigate anything."
Ban Ki-moon replied, "They will be able to… They are now discussing that."
Many find it strange that a month after Ban announced his Panel would go, and specifically praised the "flexibility" of President Rahinda Rajapaksa, he now says his Panel is having to (re) discuss the ability to have conversations inside Sri Lanka, to which Ms. Bragg is dispatched to raise funds.
(For updates you can share with your friends, follow TNN on Facebook, Twitter and Google+)