Rajapaksa skips 're-reopening' of Vasaavi'laan Central College
Sri Lankan president Mahinda Rajapaksa skipped 're-reopening' Vasaavi'laan Central College Sunday. The plaque had his name, the invitation was in his name, but the renovated hall of Vasaavi'laan Central College was again re-opened by SL minister Douglas Devananda and SL colonial governor Chandrasiri. They were the people who re-opened it in September last year. Earlier, Mr. Rajapaksa reportedly expressed his dissatisfaction of their act of re-opening the school in a hurry as the conditions were not conducive. Only a part of the college uprooted to Urumpiraay in the last two decades has been shifted back to the locality.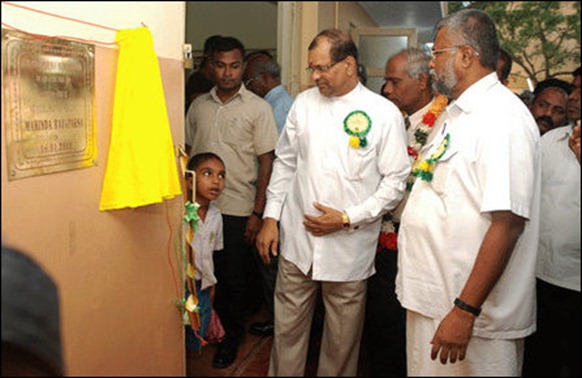 SL Minister Douglas Devananda and SL colonial governor for the North Maj. Gen. Chandrasri, re-reopening Vasaavi'laan Central College Sunday. Note the plaque showing the name of Mahinda Rajapaksa.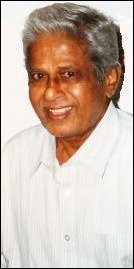 The impressive main building of the Vasaavi'laan Central College was the achievement of the late Mr. A. Ramasamy, who in late 1970s and early 1980s took it as a challenge to build up the school as one of the leading institutions of the peninsula.
The college, located very near to the Palaali airport got into 'high security concerns,' occupied by Sri Lanka military, ruined and the locality became a jungle in the last two decades.
The school was first occupied by SLA in August 1986 and it was uprooted six times.
When it was relocated to Punnaalaik-kadduvan 2 km away, the headmaster of that village school had to relocate his school to accommodate Vasaav'laan Central.
In 1988, during IPKF times, Vasaavi'laan Central came back to its orginal place, but it had to function in sheds, because the building was in ruins.
In 1990 June, it was again relocated and went to Urumpiraay and was functioning within the premises of Urumpiraay Hindu College.
Mr. A. C. Nadarajah, who became the principal in 1988, made the school to maintain its identity by acquiring lands opposite to Urumpiraay Hindu College for its functioning between 1993 and 1995.
During 1995 -1996 Riviresa SL military operations in Valikaamam, the school went to Allaarai in Thenmaraadchi and was functioning under Tamarind trees along with 9 other uprooted schools.
In 1996, it came back to Urumpiraay.
It was the efforts of Mr. Nadarajah that made the school to become a national level school by its sheer demonstration of performance even when it was repeatedly uprooted.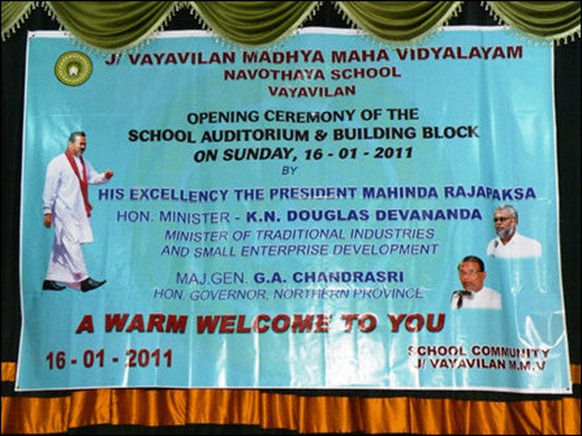 (For updates you can share with your friends, follow TNN on Facebook, Twitter and Google+)