With Rajapaksa in US Why Wouldn't Ban Ki-Moon's UN Panel, Blocked from Sri Lanka, Seek an Interview with Him?
As the Sri Lankan government has confirmed the trip of President Mahinda Rajapaksa to the United States, Inner City Press on January 20 asked UN Secretary General Ban Ki-moon's spokesman Martin Nesirky if Ban's Panel of Experts on Accountability in Sri Lanka would seek to speak with Rajapaksa during his time in the US. Video here, from Minute 9:05.
While Ban praised Rajapaksa's "flexibility" on December 17, saying that his Panel of Experts would be able to travel to Sri Lanka, more than a month later the Panel has not traveled, effectively blocked by the Rajapaksa government.
The lengthy New Yorker magazine article describing war crimes in Sri Lanka, about which Nesirky on January 19 told Inner City Press he would get the response of Ban's chief of staff Vijay Nambiar whose role in the white flag murders is detailed in the article, shows the hands-on command responsibility in Sri Lanka of Mahinda Rajapaksa and his family members.
Amid calls for the US to formally investigate Rajapaksa or unless he is traveling under the US-UN Host Country agreement to UN Headquarters to deny him a visa, it seems logical that the UN Panel, blocked by Rajapaksa from visas to travel to Sri Lanka, would seek to speak with him while in the US.
Nesirky said "Let me check." [See below.] Meanwhile, Nesirky and his Deputy Farhan Haq have left unanswered basic questions, reiterated on January 19:
-with whom in the Sri Lanka government did Ban or the UN speak before his Dec 17 announcement, talking into account that the External Affairs Minister Peiris later said he learn of it in the media?
- what agreements or understanding have been reached about with whom the Panel will speak in Sri Lanka?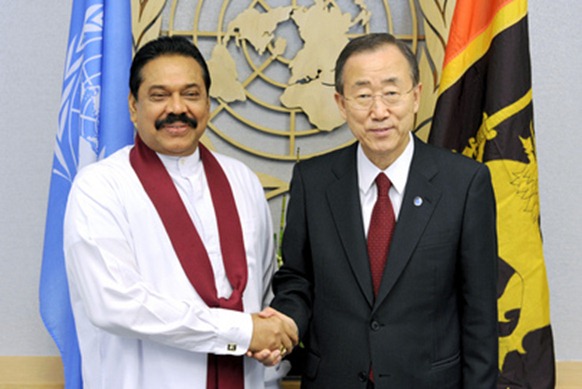 UN's Ban in Sept 2010 with Rajapaksa, flexibility not shown
  Also unanswered by the UN Office for the Coordination of Humanitarian Affairs to which Nesirky referred Inner City, and now ignored by Nesirky himself, are these questions:
when did Ms. Bragg apply for a visa to Sri Lanka, when was it granted and are there any conditions on the visa, regarding where to travel, whom to speak with, etc?
What does [the UN] say to the protests in east Batticaloa about allegedly inequitable distribution of aid?
Or, as previously requested, on the new rules requiring NGOs and INGOs to register with the Department of Defense, etc
Also, as previously asked– Does the UN have any comment on Sri Lanka's government ordering the International Committee of the Red Cross out of Northern Sri Lanka?
While Ban Ki-moon's spokesman has not answered any of these questions, he has said he will "check" to see if Ban's Panel will seek to speak with Rajapaksa.
(For updates you can share with your friends, follow TNN on Facebook, Twitter and Google+)