S.Lanka fest blames Pamuk pullout on visa woes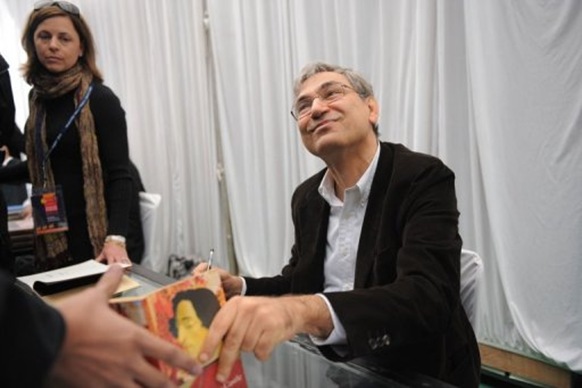 A Sri Lankan literary festival on Saturday blamed strict Indian visa rules rather than political pressure for a decision by Nobel-winning Turkish author Orhan Pamuk to pull out of the event.
Pamuk and and Booker prize winner Kiran Desai chose not to take part in the Galle festival due to Indian visa rules barring foreigners from re-entering the country for two months after leaving India, the Sri Lankan organisers said.
On Friday, Hemali Sodhi of Penguin's publisher in India told AFP the couple would not "be attending the Galle festival."
Sodhi did not respond to requests for comment on Saturday on the Galle festival organisers' statements but said the previous day that the authors would not "be commenting on this any further."
Pamuk and Desai are attending the Jaipur Literary Festival in northern India and were due to travel to Sri Lanka afterwards.
Earlier this week, Paris-based Reporters Without Borders and a Sri Lankan rights group asked foreign writers to protest against alleged rights abuses in the country by boycotting the Galle festival that opens next Wednesday.
The Galle boycott campaign has been backed by such high-profile authors as Noam Chomsky and Arundhati Roy.
The Galle organisers did not refer to the rights groups' call but said they were unable to resolve the Indian visa issue after three weeks of negotiations with the Indian immigration authorities.
"Nobody is sadder than Mr. Pamuk and Miss Desai" about their inability to attend the Galle festival, the organisers said.
They quoted from an email they said was sent by Pamuk in which he said he was "very sorry for and frustrated about this decision."
He added that he had "looked forward to seeing the beauties of Sri Lanka very much."
Pamuk had declined to take questions from journalists about the Galle festival while speaking at the Jaipur festival on Friday.
A total of 17 journalists and media workers have been killed in Sri Lanka in the past decade and many local reporters exercise self-censorship to avoid confrontations with the authorities, according to rights groups.
Pamuk, author of "Snow" and "The Black Book," became the focus of a campaign backed by Reporters Without Borders for greater freedom in his homeland after becoming a victim of laws that restrict writers' ability to criticise Turkey.
He was prosecuted for telling a Swiss magazine that 30,000 Kurds and a million Armenians had been killed during World War I under the Ottoman Turks, although the case was ultimately dropped on a technicality.
(For updates you can share with your friends, follow TNN on Facebook, Twitter and Google+)