TAG to file civil case against Rajapakse in Texas Federal Court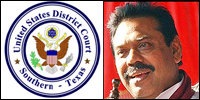 Tamils Against Genocide (TAG), a US-based activist group advocating criminal legal action worldwide against Sri Lanka's alleged war-criminals, said in a press release issued today, that TAG's attorney is filing civil action against visiting Sri Lanka's President Mahinda Rajapakse for damages under the Alien Tort Claims Act (ATCA/TVPA) on behalf of three plaintiffs for the killings of 40,000 civilians in Mullaiththeevu in 2009, killing of 5 Trincomalee students in January 2006, and for the killing of 17 Action contre la faim (ACF) workers in August 2006. As calls to apprehend, investigate and prosecute Mahinda Rajapakse by rights organizations, US Congresspersons and diaspora Tamils have escalated, European Tamil diaspora youth are mobilizing protests in front of US embassies against Rajapakse's visit to the U.S.
pdf: TAG's release: Civil case and diaspora action
A civil complaint is to be filed in the 5th Circuit Southern District Court in Texas, latest Tuesday, according to TAG's attorney, Bruce Fein. TAG's media release issued today also called upon the diaspora Tamils to pressure the US Justice Department to initiate investigations and prosecute the visiting Rajapakse for war-crimes.
The complaint is expected to establish liability on Mahinda Rajapakse for his command responsibility as a head of state of Sri Lanka over torture, war crimes, and Vanni Tamil genocide carried out by agents of the Sri Lankan state including the armed forces and Tamil paramilitary groups, member of TAG's legal team assisting the legal action said.
"Of relevant precedential value to future human rights litigation under US jurisdiction, in the legal argument, TAG's civil action will test: (1) the deference American courts provide to sitting heads of states responsible for jus cogens norm violations in the post-Samantar legal landscape, (2) whether genocide is a justifiable method of post-9/11 counter-terrorism operations, and (3) whether wikileaks documents relevant to Sri Lanka, and by extension other regions where human rights violations occur, are admissible as evidence in tort litigation," TAG said.
Professor Francis Boyle, and expert in International Law, characterized the issuance of visa to Mahinda Rajapakse to enter U.S. as worst form of Machiavellian Realpolitik conduct by the "liberal" Obama adminstration. US Ambassador in Colombo, Ambassador Butenis, has acknowledged in a recently leaked diplomatic communication that Rajapaksas were allegedgly responsible for committing war-crimes in Sri Lanka.
In Friday's press briefing State Department's Mr Crawley said that US is aware of Rajapakse's private visit and that US hope's Sri Lanka would continue the [LLRC] effort and take advantage of expertise that exists…." TAG's spokesperson reacting to Mr Crawley's statements, said "the disappointing diplomatic lingo appears to ignore US's own diplomat's acknowledgement that Rajapakse is criminally liable for war-crimes. Mr Crawly has failed to explain why Mr Rajapakse was given a visa despite these allegations. To the Tamil diaspora this dialogue reinforces the urgent need to take protest action at the US embassies to bring to focus the need for establishing accountability for war crimes in Sri Lanka."
The civil prosecution of Rajapakse if successful, in addition to serving as another pressure point to nudge the US Justice Department to take criminal action, would also supply contemporary international human rights jurisprudence a precedent, establishing the non-applicability of head-of-state immunity for jus cogens norm violations, an opportunity missed in the cases of Chile's Pinochet and Yugoslavia's Milosevic, TAG spokesperson added.
(For updates you can share with your friends, follow TNN on Facebook, Twitter and Google+)