U.N., Sri Lanka to release joint plan of development for north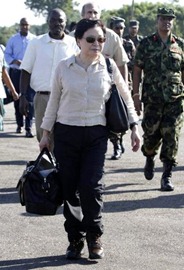 United Nations and the Sri Lankan government were together preparing a joint plan for assistance for the north of the country. This plan will be ready by early February and will be a comprehensive "to-do" list that was essential to make sure that the needs of the people were met, a senior U.N. official said.
The plan was prepared in consultation with the Sri Lankan government and was being given the final touches. It had included the role of international NGOs, and a host of other organisations working in the Jaffna area so that development of the region could be approached in an integrated manner.
Underlining the fact that "the future of the north is investing in people", U.N. relief official Catherine Bragg asserted that "with respect to the north, there are tremendous needs…shelter, more land for cultivation, livelihoods, health, education, irrigation… all were areas that required rebuilding and investment."
While commending the government for its performance in resettlement and its reaction to the recent catastrophic floods in the east, she said that substantial funds were required to make sure that people were back on their feet.
Speaking about her visit to the north, she said schools and homes were being rebuilt, but the main concern was there was "no economic activity". She asked people in the north about their means of livelihood and most of them responded by saying that the money they were given would last about three months. This was an area of concern, she added.
Ms. Bragg, who serves as Assistant Secretary-General for Humanitarian Affairs and Deputy Emergency Relief Coordinator, said that most of the returnees currently have limited access to basic services such as shelter, water and sanitation and health care. "These communities remain extremely vulnerable and have critical humanitarian needs that we must address immediately," she said.
In her meetings with government ministers late last week, Ms. Bragg reaffirmed the commitment of the U.N. and NGOs to remaining in Sri Lanka to help the government, especially in rebuilding the north.
(For updates you can share with your friends, follow TNN on Facebook, Twitter and Google+)