With Ban Called Weak on Sri Lanka, UN Claims Unfair to Judge, Unanswered Questions
With Human Rights Watch today critiquing Ban Ki-moon for "undue faith" in his so called "quiet diplomacy" with Sri Lanka's Mahinda Rajapaksa, the UN's canned response is that Ban "appointed an Advisory Panel" which will report "soon" and that it's somehow "not proper to judge the value" of the Panel.
But Ban's Panel has been blocked from going to Sri Lanka, despite Ban's December 17 and January 14 statements to the contrary and even praise of Rajapaksa's "flexibility."
Ban's approach, in fact, is worse that "quiet diplomacy" – he has actively praised Mahinda Rajapaksa, even as his government blocks any inquiry into the tens of thousands of Tamil civilians it killed in 2009, as detailed for example in The New Yorker magazine.
As Inner City Press has asked questions about Ban's December 17 and then January 14 statements about Sri Lanka, Ban's spokesman Martin Nesirky declared on January 21 that he would not answer any more questions from Inner City Press until it somehow "acts appropriately" — apparently meaning not to ask questions, which is all Inner City Press did on January 21 prior to Nesirky's extraordinary statement.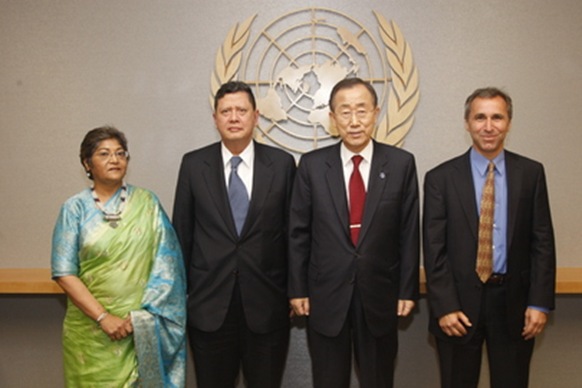 UN's Ban and his Panel: supposedly UNfair to judge, but where are they?
Inner City Press then submitted to Nesirky and his deputy Farhan Haq a series of factual questions, including about Sri Lanka. Only one question — not about Sri Lanka, and even then only with a peacekeeping mission's pre-existing and dubious press release — has been answered. Nesirky did not show up for the January 24 UN briefing, leaving Haq to read out the above quoted response.
(For updates you can share with your friends, follow TNN on Facebook, Twitter and Google+)