On Sri Lanka, UN Says Bragg Had Visa Without Restriction, Unlike Ban's Panel
On Sri Lanka, Inner City Press has belatedly gotten some UN answers to questions about humanitarian issues it asked more than a week ago.
  The UN Office for the Coordination of Humanitarian Affairs in the answers it provided today says it "cannot second guess the government" on the fairness of aid distribution, and won't comment on the government ordering the International Committee of the Red Cross out of Northern Sri Lanka, or imposing a burdensome registration process on other NGOs in the country.
The questions OCHA provided answers to today were a subset of the Sri Lanka questions Inner City Press initially asked the Office of the Spokesperson for Secretary General Ban Ki-moon, OSSG.
Days before Ban Spokesman Martin Nesirky said he wouldn't answer any more questions from Inner City Press unless it acted "appropriately," apparently meaning not asking about compliance with UN rules, he said "ask OCHA." So on January 17, Inner City Press emailed the questions to OCHA's spokespeople.
Hearing nothing back from OCHA or Nesirky and his Deputy Farhan Haq to whom Inner City Press reverted with the questions, on January 26 Inner City Press asked OCHA deputy Catherine Bragg and them her spokespeople. OCHA said it had given answers to the OSSG. But, perhaps in implementation of Nesirky's threat, the OCHA answers were never given to Inner City Press.
Finally OCHA re-sent its capitalized answers directly to Inner City Press:
What does [the UN] say to the protests in east Batticaloa about allegedly inequitable distribution of aid?
WE CANNOT SECOND GUESS THE AID PROVISION OF THE GOVERNMENT, PARTICULARLY AS IT IS PULLING TOGETHER A COMPREHENSIVE POST DISASTER NEEDS ASSESSMENT. IN MAJOR DISASTERS, IT IS NOT ABNORMAL FOR SOME OF THOSE AFFECTED TO WISH AID PROVISION WOULD OCCUR IN A DIFFERENT MANNER THAN IT HAS DONE.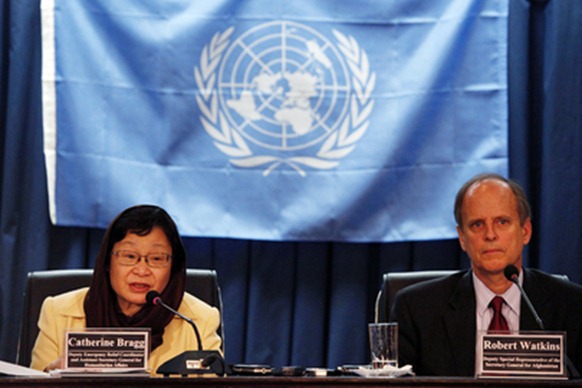 OCHA's Bragg, second guessing of Sri Lanka aid distribution not shown
Also, as previously asked– Does the UN have any comment on Sri Lanka's government ordering the International Committee of the Red Cross out of Northern Sri Lanka? http://www.irinnews.org/Report.aspx?ReportID=91160
WE UNDERSTAND THAT ICRC IS CURRENTLY DISCUSSING THE FUTURE OF ITS OPERATIONS IN SRI LANKA WITH THE AUTHORITIES, AND HAVE NO FURTHER COMMENT AT THIS TIME. PLEASE REFER TO ICRC FOR MORE INFORMATION ON THIS.
Or, as previously requested, on the new rules requiring NGOs and INGOs tonregister with the Department of Defense, etc
A GOVERNMENT HAS A RIGHT TO KNOW WHICH NGOS ARE OPERATING WITHIN A COUNTRY, AND TO REQUIRE REGISTRATION. OUR CONCERN HAS ALWAYS BEEN THE ABILITY TO ACCESS POPULATIONS IN NEED OF HUMANITARIAN AID.
When did Ms. Bragg apply for a visa to Sri Lanka, when was it granted and are there any conditions on the visa, regarding where to travel, whom to speak with, etc?
I AM NOT AWARE OF ANY DIFFICULTIES IN OBTAINING THIS VISA NOR OR ANY TRAVEL RESTRICTIONS ON IT.
(For updates you can share with your friends, follow TNN on Facebook, Twitter and Google+)