Despite Hearing of Death in Sri Lanka, UN Bragg Says No Contact with Ban's Panel
Hours after the UNbelatedly  told Inner City Press that its humanitarian deputy Catherine Bragg had no restrictions on her recent visa and trip to Sri Lanka, Ms. Bragg said that she has and apparently will have no contact at all with Ban Ki-moon's Panel on Accountability for war crimes, despite people in Northern Sri Lanka telling her about relatives killed in the war.
Inner City Press had put questions in writing to Ms. Bragg, including
"How much of the aid you are requesting would be distributed by or through the government? Did you hear anything about unfair distribution of aid? About why and how the IDPs / returnees were displaced? Will you pass any of this information to any other part of the UN — the Office of the High Commissioner on Human Rights, or the Secretary General's Panel on Accountability in Sri Lanka? When did you apply for a visa, how long was it for, and where there any conditions, explicit or implicit? Were there any negotiations (and if so, what was said)?"
Some but not all of these questions have now been answered, in a way that reflects the fragmentation of the UN system. Ms. Bragg and her spokesperson have for now declined to answer them in writing.
  But the question remains to be answered: how could a high UN official like Ms. Bragg listen to people's stories about murder in a place like Northern Sri Lanka and not share the information with the Office of the High Commissioner on Human Rights, or in this case the Secretary General's Panel on Accountability in Sri Lanka?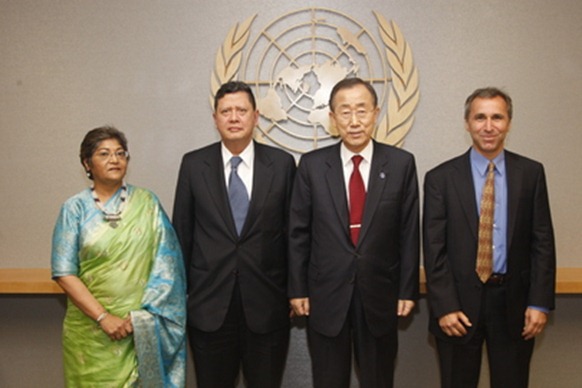 UN's Ban and his Panel: Bragg of OCHA & what she heard not shown
Even on the questions about disparities in aid distribution, Bragg's spokesperson provided an answer on Wednesday morning that the UN wouldn't "second guess the government" on aid distribution.
And Ban Ki-moon's UN apparently won't "second guess" on war crimes, either — except for example by second guessing the International Criminal Court judges who have indicted Sudan's Ahmed Haroun for war crimes. The UN Mission in Sudan used a UN plane to provide transportation to Haroun to convene a meeting of the same type of nomadic tribes he organized in Darfur to burn villages down.
The UN is subject to second guessing for this, and now for listening to people in Northern Sri Lanka and then just sitting on the information. Why Ban's Spokesperson Martin Nesirky sat on Bragg's office's answers such as they were to Inner City Press' January 17 questions still remains unresponded to, as do numerous other factual questions submitted by Inner City Press.
  On Wednesday he said that Ban's Panel's plan are still "under discussion." Where — in meetings of the UN alone in the North Lawn Building?
  Nesirky said that the panel continues to discuss its interaction with Sri authorities. But Sri Lanka under Mahinda Rajapaksa has made it clear it will not deal with Ban's Panel, despite Ban having praised Rajapaksa's "flexibility."
(For updates you can share with your friends, follow TNN on Facebook, Twitter and Google+)