As in Sri Lanka Media Is Burned Down, UN "Is Not Aware" of Petition about Disappeared Journalist, Silent for 1 Week
As in Sri Lanka the office of Lanka-e-News was burned down and the UN had no comment, nor would the UN on January 31 even confirm receipt of a petition from the wife of journalist Prageeth Eknaligoda, disappeared on January 24, 2010.
A year after the disappearance, January 24, 2011 Inner City Press asked UN Secretary General Ban Ki-moon's spoksman Martin Nesirky
"What is the UN's response to this -
'The wife of a Sri Lankan journalist believed to have been abducted a year ago has urged the United Nations to help trace him, saying she believed the government was complicit in the crime. Prageeth Ekneligoda was critical of the government's conduct during its civil war with the Tamil Tiger rebels, who fought for 25 years for an independent homeland. Prageeth's wife, Sandya, handed a letter to the world body's office in Colombo on Monday that accused the government of having no interest in finding her husband.'
Will the UN help? Does the UN have any response to this case, or the other unresolved attacks on journalists in Sri Lanka, including those Ban commented on but some say did not follow up on?"
For an entire week, Ban's spokesperson's office refused to even confirm receipt of the question, which Inner City Press re-submitted each day. On the morning of January 31, Inner City Press asked:
"What is the UN's comment and action on this – 'the arson attack on Lanka-e-News office located in Malabe, Colombo district… Benet Rupasinghe, news editor of lankaenews.com, said his office was set on fire at around 2.00 a.m. by a group of unidentified persons who destroyed everything in the office…"It is not in a possible state to continue website operations," he said. Last week priests and journalists appealed to the United Nations to find Prageeth Ekneligoda, a Lanka-e-News journalist who disappeared on Jan. 24 last year.'
Still requesting UN confirmation of receipt, and response to, this petition to the UN about the case of disappeared Prageeth Ekneligoda."
Still having no answer or confirmation of receipt, Inner City Press asked the questions in person at the January 31 UN noon briefing. Ban's spokesman Martin Nesirky said "both are questions you sent by email." Yes — but they were never answered or even acknowledged.
  Earlier this month Nesirky ended a briefing (on January 21) by saying it would only take questions from Inner City Press if it "acted appropriately" — apparently meaning, no questions about compliance with UN rules. Nor about Sri Lanka?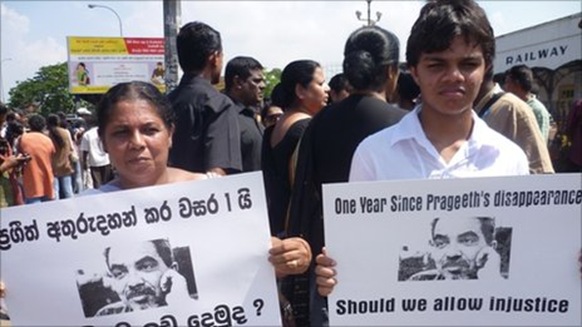 One year after Prageeth was disappeared, UN not shown
On January 31, Nesirky said he would see if there's anything further on the burning down of Lanka-e-News, that freedom of the media is vital, and that "we're not aware of a petition being handed in."
(For updates you can share with your friends, follow TNN on Facebook, Twitter and Google+)