US legal effort to seek justice for son's killing – Dr Manoharan
In an interview with the BBC Tamil service, Dr Kasippillai Manoharan, father of Ragihar, one of the five students extra-judicially executed by Sri Lanka's military at the Trincomalee beach on January 2nd, 2006, said that Sri Lanka's judicial system is not capable and unwilling to provide justice and bring closure to his son's death, hence his initiating a civil suit in the U.S. He further told the BBC, five years have passed since his son's brutal killing, and he will use all judicial instruments now available to him outside Sri Lanka to bring his son's killers to justice. Dr Manoharan said he is convinced that Sri Lanka's President Mahinda Rajapaksa has information on the killers but the President is unwilling to allow prosecution of military officers. Both Mr and Mrs Manoharan are prominent physicians who earlier practiced in Trincomalee.
A translation of the interview given in Tamil to the BBC Tamil Service Saturday (1/29/2011) follows:
BBC: What is the objective of the case filed in US?

Dr. Manoharan: Sri Lanka Government has not investigated my son's killing; it has failed to serve justice to us. While I don't have any personal animosity against Sri Lanka's President, he was the head of the State when my son was killed. He was the Commander-in-Chief for the armed forces who we believe killed our son.
BBC: What is your main complaint in the pleading?
Dr. Manoharan: We filed the civil case to seek a judgment on the murder of our son. We have been cheated repeatedly by the Sri Lankan authorities responsible for investigating the killing. First Commission of Inquiries (CoI) was formed by Colombo to investigate 15 different cases of human rights violations, including the Trincomalee killing of 5 students. The International Group that was monitoring the Commission quit in mid-stream accusing the CoI of conflict of interest and failing in its mandate. Now Sri Lanka has appointed the LLRC (Lesson Learnt and Reconciliation Commission). I have no faith in this new commission and have not given evidence before it. The case in US was triggered by these setbacks.
TAG Report: Trincomalee executions
BBC: What is status of the criminal proceedings in Sri Lanka?
Dr. Manoharan: Every month during the last five years, the Court calls for hearings on my son's case, and postpones it for the following month citing that investigations have not been completed by the Sri Lanka police. In several cases Sri Lanka's President has taken initiative to move the case forward. In my son's case, I am absolutely certain Mr Rajapakse knows who the killers are. But he is hesitant to publicly admit his knowlege as he is reluctant to incriminate Sri Lanka security forces in the extra-judicial killings.
Post-Trinco-massacre photo album
BBC: What redress are you seeking in the US case?
Dr. Manoharan: Since this is a civil case, we are seeking damages. But the case will also determine who the guilty parties are.
BBC: How much are you asking?
Dr. Manoharan: All three plaintiffs together are asking the court for US$30m award.
BBC: Why did you have to file the case in the US?
Dr. Manoharan: Since Mr Rajapakse was visiting, it was considered prudent to file the case while Rajapakse was in the US soil. I kept quiet while Rajapakse was visiting earlier to Britain. One reason was a mark of respect for the title of the President. But I have taken this action now since I feel that Mr Rajapakse has the power to bring justice to my son.
BBC: You are domiciled in Britain. When Rajapakse was visiting Britain you didn't take any action, but why you have moved now to take action in the US?
Dr. Manoharan: Only on 2nd of January, we had the fifth anniversary of my son's brutal killing. I was prepared to wait for 5 years to see if Sri lanka can deliver justice to me. Only having firmly established that Sri Lanka is neither capable nor willing to deliver justice, I was forced to take this action in the US.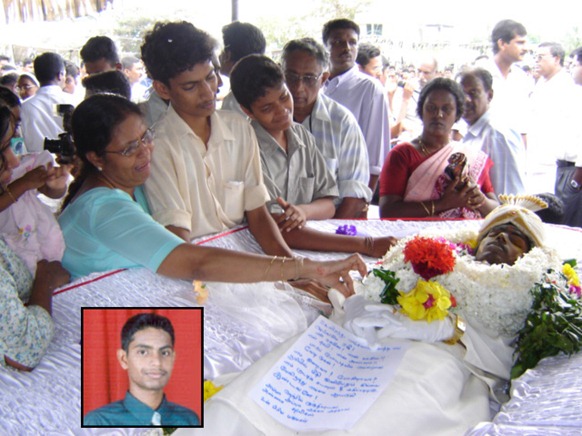 Funeral home of slain student Manoharan Rajeehar
BBC: In Colombo the Presidential spokesperson has said that the case is a propaganda effort by the LTTE fronts; Can you comment?
Dr. Manoharan: Comments from Colombo has no constraints. They can say anything they want. Let's go back five years. When my son was murdered, the Sri Lanka Government insisted that the youths killed were members of the LTTE. We had to struggle to establish that they were unarmed students. Only after there was public outcry, the Government admitted there was violation of human rights and included the Trinco massacre as one of the cases for the Commission of Inquiries. Even when International experts [International Independent Group of Eminent Persons (IIGEP)] were assigned to monitor the CoI, we did not get justice. Five years have passed. I am now prepared and ready to bring legal action anywhere outside Sri Lanka.
(For updates you can share with your friends, follow TNN on Facebook, Twitter and Google+)