Sri Lanka president promises growth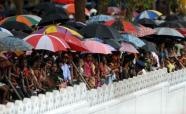 Sri Lanka's President Mahinda Rajapakse promised Friday to promote economic development at all costs to make up for opportunities lost during the country's separatist war.
In an address on the country's 63rd anniversary of independence from Britain, Rajapakse said he would press ahead with infrastructure projects and double per capita income to over $4,000 in the next few years.
He also said he was ready to make unspecified "tough decisions" even if they were unpopular as the country battles high inflation.
"It is the nation's responsibility to take hard and difficult decisions to bring light to the future of our children, rather than take popular decisions that will lead them to darkness ahead," the president said in Kataragama, 280 kilometres (175 miles) south of Colombo.
"Whatever the obstacles, we shall not delay to regain the lost opportunities for economic development," he added.
The military parade and cultural show by thousands of students was boycotted by the main opposition to protest the jailing of Rajapakse's main political foe, former army chief and opposition leader Sarath Fonseka.
Rajapakse issued a decree granting an amnesty to 1,669 convicts to mark the independence anniversary, but Fonseka received no reprieve, a prison official in Colombo said.
Fonseka did not qualify for an amnesty because he had been convicted by a court martial, the official said.
The opposition planned to hold a demonstration later in the day outside the main prison in Colombo where Fonseka is serving a 30-month sentence after he was found guilty of irregularities when he was army chief.
Fonseka is widely credited with leading troops to crush Tamil Tiger rebels and end the island's 37-year separatist war. He fell out with Rajapakse on who should take credit for the military victory.
He was arrested two weeks after failing to unseat Rajapakse in the January 2010 presidential ballot. His jailing means Fonseka loses the seat he won in parliament, together with the right to stand for public office till 2017.
Rajapakse, who is also commander-in-chief of the armed forces, said the nation should also work towards uniting the minority Tamils and the Sinhalese majority after the end of the island's ethnic conflict in May 2009.
"We must have the same commitment to building a united nation as we had in defending our country," he said.
"We are one of Asia's oldest democracies. We have traversed a mature democratic path where we are able to solve our own problems."
The remarks followed a statement from the US Secretary of State Hillary Clinton who voiced hope for a "just and democratic" Sri Lanka as she offered congratulations ahead of the war-torn island's Independence Day.
(For updates you can share with your friends, follow TNN on Facebook, Twitter and Google+)