Pirapaharan's mother's condition serious, not critical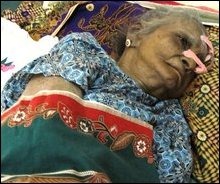 The condition of Velupillai Paa'rvathi Amma, the mother of the LTTE leader Mr. V. Pirapaharan, while remaining serious, has not reached dangerous stage, hospital sources in her native town Valveddiththu'rai said. The health officials transport her to the Jaffna Hospital for emergency needs and then bring her back to Valveddiththu'rai for day-to-day health care delivery, sources added.
Due multiple displacements during the military offensives of the Sri Lanka Army, and later incarceration at the notorious Panagoda Camp her health had deteriorated. One of her hands had been badly affected.
Besides Paa'rvathi Amma is afflicted with blood pressure and diabeties.
Valveddiththu'rai Hospital Chief physician who is responsible for her welfare said that Paa'rvathi Amma is receiving the best health care possible.
Sivajilingam, former Member of Parliament and currently competing for the Valveddiththu'rai Urban Council seat on TNA ticket is reportedly assisting in providing best care to the sickly mother.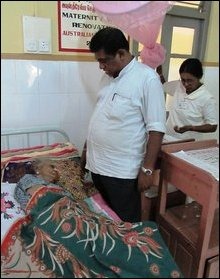 (For updates you can share with your friends, follow TNN on Facebook, Twitter and Google+)