Two mothers killed in flats 'arson' – one was visiting her children for first time in seven years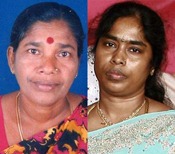 (ES) A mother-of-five visiting her children in London for the first time in seven years was one of two women killed in a tower block blaze.
Santhirapathy Tharmalingam, 59, died with her cousin Kunaliny Alagaratnam, 42, in the fire in Deptford, which police are treating as arson.
Ms Tharmalingam had travelled from Sri Lanka to see her children and grandchildren and was visiting mother-of-two Mrs Alagaratnam at the time of the fire, which started in the next-door flat on the top floor of the 16-storey building last Friday afternoon.
Both women died despite the efforts of 50 firefighters, who battled flames as terrified relatives looked on from below.
The families of the women, from Mullaitivu in the north of Sri Lanka, today spoke of their shock at the deaths at Marine Tower in Abinger Grove.
Ms Tharmalingam's daughter Nanthini, 38, said she was happy to see her mother "alive and unharmed after the war in Sri Lanka", but the feeling was "swept away" after the fire. "Me and my family are really depressed," she added. Ms Tharmalingam was a housewife whose husband died in 2003, and had last visited her children in London and Paris in 2004. She had two daughters and three sons.
She lived in Sri Lanka during the 26 years of civil war between the government and the Liberation Tigers of Tamil Eelam, which ended in 2009.
Her son Shanthiralingam, 33, said: "When I think about my mother I always see her smiling at me and laughing."
Tributes were also paid to Mrs Alagaratnam, who had lived in London for six years after travelling from Mullaitivu to join her husband Ponnampallam. She lived with him and children Kokilavarathan, 17, and Kishan, five.
Her nephew Tharinath Mahenthirarajah, 21, from Lewisham, said: "She was a really nice and very caring person to everyone. It is a big loss for every single one of us here. Every relative has visited her husband. She spent most of her time with her sons, taking care of them and making sure they were doing well at school."
(For updates you can share with your friends, follow TNN on Facebook, Twitter and Google+)