Export of goods to Sri Lanka by sea begins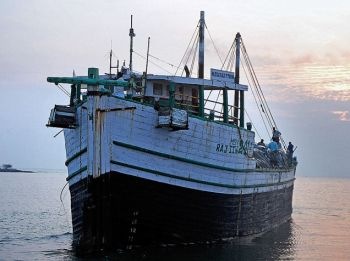 The much-awaited mechanised sail vessel export trade operations resumed from the Old Port of Tuticorin in the early hours of Saturday. With a 10-member crew on board the vessel, the MSV Raj TTN 241 is expected to reach Colombo with a consignment of 250 tonnes of goods in a span of 24 hours. Since Tuticorin is known for sail vessel, most of the people depend on its operation.
After flagging off, S. Princeton Fernando, president, Coastal Sail Vessel Owners' Association, Tuticorin, said that initially the vessel would be operated weekly and based on the volume of business, the service would be increased to four trips a week.
He thanked the Chairman of Tuticorin Port Trust A. Subbiah for having extended support to this mode of operation.
Citing the Old Port of Tuticorin as the backbone of the district and also the veritable source of generating business, Mr. Princeton said that it had made great strides in developing relationship between the traders of India and Sri Lanka.
Ubaldraj Meckanna, secretary of the association, said the resumption of this export trade was a boon to the tradesmen of various states across India.
Traders from many parts of Tamil Nadu, Karnataka and Andhra Pradesh would be assured of better prospects from this operation. Since it was the cheapest mode of export trade, the ministries concerned should ensure fifty per cent of reservation of cargo handling for the sailing vessel in the interest of traders.
To ensure prompt delivery of goods to the buyers in Colombo, quantities of consignments had been booked on February 9 on this charted vessel, initially.
Plans were also afoot to ship seafood to the Maldives following demands. To compete with container vessels, the stakeholders were contemplating on converting the wooden hull into steel on the vessels. Representations to this effect would be made to Director General of Shipping. If the conversion was made, export trade would be expanded. Large consignments of up to 2,000 tonnes could be shipped to countries like Malaysia. Since it was a traditional trade industry in Tuticorin, fuel spending in vessels would be economised.
(For updates you can share with your friends, follow TNN on Facebook, Twitter and Google+)