Meira Kumar optimistic about budget session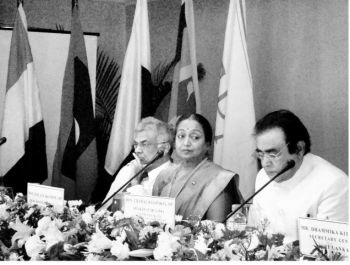 Lok Sabha Speaker Meira Kumar is hopeful that the budget session of Parliament, beginning on February 21, will transact the listed business and it will not be stalled by the Opposition. "We are very optimistic," she said here on Saturday.
Most of the listed business could not be transacted during the winter session as the Opposition stuck to its demand for a Joint Parliamentary Committee probe into 2G spectrum allocation. The Opposition, led by the BJP, has made it clear that it will persist with the demand in the budget session too.
Responding to the comments by Leader of the Opposition in the Sri Lankan Parliament Ranil Wickramasinghe on the happenings in the Lok Sabha, Ms. Kumar admitted that there were times "when Parliament becomes turbulent. But our deep faith in the system and our strong desire to run it smoothly overcome all problems. We are very optimistic," she said, deviating from the prepared text of her speech at the opening ceremony of the third Asia Regional Conference of the Commonwealth Parliamentary Association.
Referring to the stalling of Parliament in India and other instances, Mr. Wickramasinghe said the Speaker's task was not easy. He wanted the fundamental political values of the Commonwealth upheld.
In her speech, Ms. Kumar asked parliamentarians to take the lead in evolving a national consensus on empowering the poor by displaying the political will to democratise and decentralise faster.
Inclusive development
Inclusive growth was hampered by poverty, food and water shortage, health problems particularly of mothers and infants, environmental degradation, climate change and human rights abuse, she said.
"Above all are the challenges arising out of terrorism. Our endeavour is to achieve inclusive development without compromising on peace and security in the region. The Third CPA Asia Regional Conference is extremely relevant as it seeks to address some of these concerns."
Singling out poverty as "the most daunting challenge facing us today," Ms. Kumar said that despite global commitments, the overall achievement in eradicating it was slow and uneven.
The Millennium Development Goals Report for 2010 pointed out that undernutrition among children under five continued to be widely prevalent.
(For updates you can share with your friends, follow TNN on Facebook, Twitter and Google+)