With Ban Criticized on Press Freedom, UN Again Denies Getting Petition on Disappeared Journalist in Sri Lanka
Two weeks after the UN acknowledged that a petition about a journalist's disappearance was transmitted to New York by its office in Sri Lanka, UN spokesman Martin Nesirky on Tuesday claimed "we here did not receive a petition yet. If there is such a petition.. we haven't seen it yet." Video here.
The UN of Secretary General Ban Ki-moon is accused of not doing enough for press freedom, by the Committee to Protect Journalists and others. On February 15, CPJ's Bob Dietz told the Press that the UN has done "nothing" on the case of Lanka e-News journalist Prageeth Eknelygoda, whose wife has petitioned for Ban's involvement through the UN in Sri Lanka.
When Inner City Press then asked Ban's spokesman Martin Nesirky to respond, he claimed for the second time in two weeks that the UN had not yet received the petition. There is a problem: after Inner City Press got this answer on January 31, the UN in Sri Lanka publicly confirmed it had received the petition. How could it not yet have reached New York?
On January 31, as transcribed by the UN itself, Inner City Press asked Nesirky:
Inner City Press: recently there is a burning down of a publication, Lanka eNews, and various people said this is a crackdown on freedom of speech. There is also a petition that was delivered, I believe, to Mr. [Neil] Buhne in Colombo, seeking UN help to look into the case of a disappeared journalist for a year, Prageeth Ekneligoda, and I am wondering, that one has been sort of pending for a while, is there some… What is the UN's response to what seems to many to be a crackdown or certainly increase of danger for journalists in Sri Lanka?
Spokesperson Nesirky: Well, both of those, again, are questions that you sent by e-mail and should we have anything further, then we'll let you know. But what I can tell you, the key point is that, freedom of the media is vital and journalists should be able to carry out their work without fear of attack or being harassed to do the work that they need to do.
Inner City Press On this petition [about] Prageeth, turned in by his wife, has it yet been confirmed that it was received by the UN in Colombo, and what happens with such petitions for UN assistance?
Spokesperson: Look, we checked. We're not aware of a petition having been handed in. We'll check again, but the latest that I had was that we are not aware of a petition having been handed in.
After that, with no correction being provided to Inner City Press by Nesirky or anyone else in the UN, the UN in Colombo told a publication there that
"A letter addressed to the Secretary General has been received by the Resident Coordinator Neil Buhne and is being forwarded to the Secretary Generals office," the UN office in Colombo told the Daily Mirror. The UN in New York revealed earlier that it was unaware of the petition handed over by Sandya Eknaligoda on January 24. "We're not aware of a petition having been handed in", Spokesperson for the Secretary-General Martin Nesirky had told a press briefing.
The next day February 1 Nesirky's acting deputy Farhan Haq said at the UN noon briefing that
I have some answers to questions that were asked at yesterday's Noon Briefing.We were asked about a letter concerning the treatment of a Sri Lankan journalist. I can confirm that we have now received the letter to the Secretary-General, which was transmitted to New York by the UN Resident Coordinator in Colombo. It was also channelled to colleagues in the Office of the High Commissioner for Human Rights. The letter is now being reviewed.
Then two weeks after Haq said publicly that the letter "was transmitted to New York by the UN Resident Coordinator in Colombo" and " is now being reviewed," Ban's spokesman Nesirky again denied that the petitioning letter was ever received. Video here.
Inner City Press asked, what has Ban or the UN done about the petition about Prageeth?
Nesirky answered that the UN is not just the Secretary General and that would check with UNESCO. He then said, "As I mentioned, we here did not receive a petition yet. If there is such a petition… we haven't seen it yet." Video here.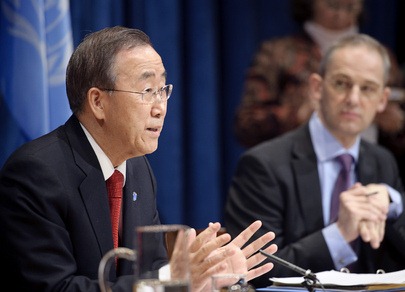 UN's Ban & Nesirky in 2011: receipt of petitions denied questions limited
In the rest of his noon briefing, Nesirky parried and dodged questions about criticism of Ban's lack of action on press freedom. Nesirky said, among other things, the Ban is "well briefed" on such issues, "not least by me."
But Nesirky wasn't even aware what his own deputy said about a petition about a disappeared journalist, and instead insisted that the petition was not received. Some briefing.
Footnote: the February 15 UN noon briefing ended with Nesirky telling Inner City Press he would take only one more question. Inner City Press said it had more than one question, but Nesirky insisted, only one (which he did not answer either). Video here, at end.
  Already pending for weeks in his office are questions about how Ban spoke with before claiming his panel could travel to Sri Lanka and praising President Mahinda Rajapaksa's "flexibility." Further back, Nesirky simply refused to answer, or even pass along, questions about Ban's contacts with Rajapaksa, and the time of Ban's son in law in Sri Lanka. Watch this site.
Inner City Press: Investigative Reporting from the United Nations
(For updates you can share with your friends, follow TNN on Facebook, Twitter and Google+)