Indian fishermen released, Indian Consul-General intimidates Tamil judge in Jaffna
Following an urgent 'instruction' from the Sri Lankan Chief Justice in Colombo, the Indian fishermen held in remand in Jaffna, were released Friday without any inquiries and were set free to leave the island in their trawlers that had been seized by the local fishermen. The move comes following an 'instruction' from the Indian Foreign Minister S.M.Krishna to his Sri Lankan counterpart, G.L.Peiris, on Thursday. Meanwhile, the Indian Consul-General in Jaffna Mr. Mahalingam has been blamed of intimidating a prominent Judge of Point Pedro Courts, Srinidhi Nanthasekaran, by visiting her residence and insisting her to release the Indian fishermen. Mrs. Nanthasekaran, who was earlier transferred away from Jaffna for her stern actions against the Sri Lankan military, during the war, came with hard remarks on the interference by the Indian Consul-General in the legal affairs in Jaffna.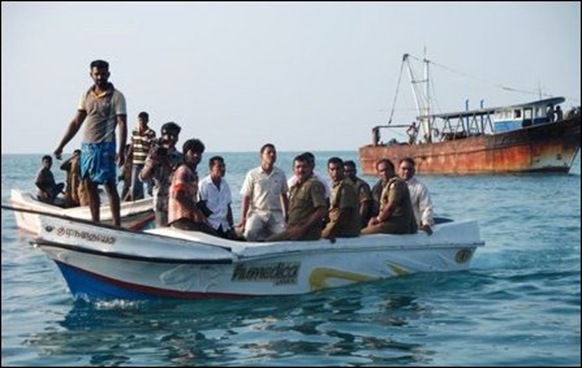 On Thursday, the Indian Consul-General in Jaffna visited the residence of Point Pedro Judge at her house and allegedly intimidated her to release the fishermen with immediate effect, legal sources in Jaffna told TamilNet.
The Indian fishermen sailed in their trawlers from Vadamaraadchi and Maathakal, with the protection provided by Sri Lanka Navy.
High ranking Indian Naval personnel were dispatched from India to receive the released fishermen who were handed over to the Indian Navy by the Sri Lanka Navy Friday.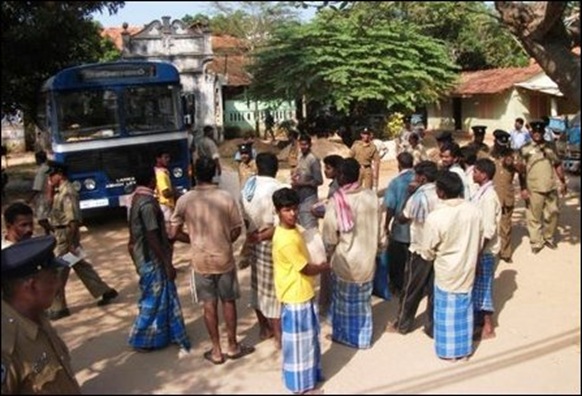 (For updates you can share with your friends, follow TNN on Facebook, Twitter and Google+)