Hundreds of Eezham fishermen silently agitate before Indian mission in Jaffna
Around 400 Eezham fishermen and their families from Maathakal in Jaffna, led by parish priest S.M.P Anandakumar, silently agitated in front of the Indian consulate at Kantharmadam in Jaffna, Monday morning, demanding security for them and assurance against poaching by Indian fishermen. Their mouths tied in black cloth they carried placards, damaged fishing nets and empty pots. There was a heavy presence of occupying SL military to provide security to the Indian mission. According to the fishermen, the Indian Consul General, Mr. Mahalingam dodged assurances when fishermen representatives met him some days ago. Since he secured the release of the poaching Indian trawlers and fishermen, he is also now responsible for stopping poaching and providing security in the seas to the affected Eezham fishermen, the agitators said.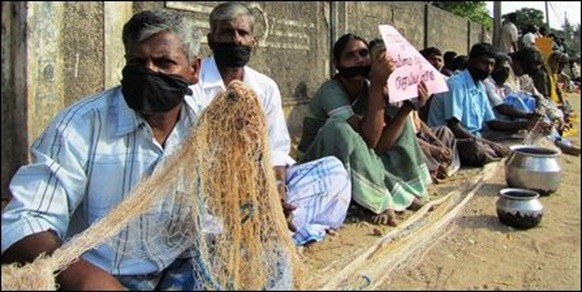 Fishermen of Kurunakar in Jaffna also plan a similar agitation, sources in Jaffna said.
The Indian method of fishing or rather sweeping the seabed is internationally banned. It causes serious damage to the future of fishing industry. The Indian fishermen cause unbearable material losses by cutting off nets laid at sea and even stealing them. The material losses of Maathakal fishermen alone are over 1,15,00,000 SL rupees, said a letter written by Rev. Fr. Anandakumar to the Indian envoy in Jaffna.
The Indian fishermen also cause terror in the sea as they carry long swords for cutting the nets and intimidating, said, Rev. Anandakumar writing the letter on behalf of the fishing community of Maathakal and Maathakal Social Service Centre of St. Thomas' Church.
The priest demanded ban on trawler fishing and poaching.
" We wish to point out that this intrusion is not accidental but intended and done quite openly and regularly with perhaps the undercover of the authorities in India," Fr. Anandakumar pointed out in the letter adding that satellite images show trespass further inside the fishing grounds of the island.
Meanwhile, The Hindu, in a story published Sunday, highlighted that "betrayal by Sri Lankan Tamil fishermen" haunts the Tamil Nadu fishermen.
The Hindu also cited the released Indian fishermen saying that attacks against them took place well within international waters.
(For updates you can share with your friends, follow TNN on Facebook, Twitter and Google+)