Occupying SL military intimidates mourning for Parvathi Amma
Colonial military of Sri Lanka occupying Jaffna, intimidated people of Valveddiththu'rai on Sunday to remove the black flags displayed to mourn the demise of Parvathy Amma, 80-year-old mother of the LTTE leader Pirapaharan. Hundreds of SL military intelligence personnel in civil dress, deployed at Theeruvil grounds where the remains are kept for public homage, made the local people themselves to remove the flags of mourning. Angered by the SLA harassment, representatives of civil organizations in Valveddiththu'rai warned the military personnel of repercussions if they continued to harass the people, when the occupying soldiers were instructing the people to remove the name of Mr. Pirapaharan from posters paying tribute to Parvathi Amma. Colonial Colombo behaves the same way the British treated the Kandyan Sinhalese, commented a journalist in Jaffna.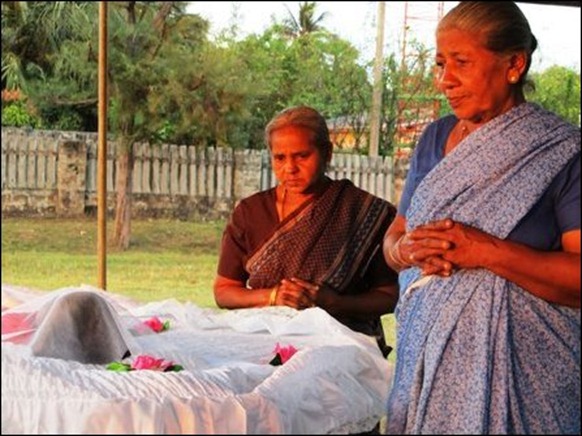 S.K. Sivajilingam, former TNA MP, who has been approached by the family members to be the guardian of the mother, has announced that the funeral would be held on Tuesday.
Many leaders of political parties and movements in Tamil Nadu have come out with homage to Parvathi Amma.
Tamil Nationalist Movement leader Pazha Nedumaran, MDMK General Secretary Vaiko, Naam Thamizhar movement leader Seeman, Paadda'li Makkal katchi leader Ramadoss and several other leaders have come out with tributes.
Viduthali Chiruththaika'l Kadchi (VCK) leader Thirumavalavan said that he would participate in the funeral. The VCK has asked its volunteers in Tamil Nadu to lower the party flag to pay homage to Parvathi Amma.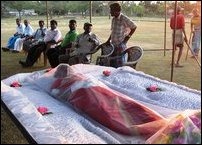 Mr. Pazha Nedumaran in his address said that Mrs. Parvathi Amma had maintained the self-respect of Eezham Tamils by rejecting the belated offer of accommodation by the Tamil Nadu government.
Former TNA MPs and Tamil National Peoples Front (TNPF) politicians Gajendrakumar Ponnampalam, Selvaraja Kajendren, Pathmini Sithamparanathan, S. Varatharajan, Hariharan and TNA MP S. Sritharan paid their last respects to Parvathi Amma Sunday.
Selvaraja Kajendren of TNPF in his message of tribute said Parvathi Amma was everybody's mother in the Tamil Nation.
Pirapaharan's parents staying in Tamil Nadu decided to go back to Vanni to be among the people who faced the war.
On Sunday, several organizations throughout the global Tamil diaspora and in Tamil Nadu held memorial events to pay tribute to the mother of the LTTE leader.
Eezham Tamil media operating from the diaspora canceled their normal programmes giving space for viewers and listeners to pay their tributes through their broadcasts throughout the world.
Diaspora organizations, including student unions, youth organizations, village associations, sports clubs, welfare associations etc are conducting memorial events throughout the cities in Canada, UK, Switzerland, France, Germany, Holland, Norway, Denmark and in other countries.
(For updates you can share with your friends, follow TNN on Facebook, Twitter and Google+)