Diaspora legal activists speak to Palaka'ni on ICC case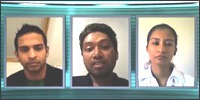 It is colonial mentality to expect that others on their own will give us justice and solutions. We should seek them on our own. For well over 60 years the Eezham Tamils were waiting for political justice and now for nearly two years they have been waiting for justice on war crimes. If they are not forthcoming, the younger generation should work for them with the same spirit of united uprising that was seen before May 2009, was the opinion expressed in a panel discussion on Monday by new generation politico-legal activists, Rajeev Sreetharan in USA, Lathan Suntharalingam in Switzerland and Sam Pari in Australia. The activists who are engaging directly with the International Criminal Court (ICC) in seeking legal action against Palitha Kohona, said that such cases are only the beginning, but the real focus should be on emancipation and independence of Eezham Tamils.
Speaking to Palaka'ni in Tamil, English and German, the participants of the panel stressed on the importance of wider participation by diaspora Eezham Tamils in the civil movements aiming at emancipation and independence.
(For updates you can share with your friends, follow TNN on Facebook, Twitter and Google+)