Remains of Parvathi Amma cremated amidst military harassment
Braving harassments by occupying Sri Lankan military that has been forcing the people to remove black flags they had flown to mourn the late Parvathi Amma, people from various parts of the peninsula took part in the funeral procession Tuesday together with former and current parliamentarians representing Tamil National Alliance (TNA) and Tamil National Peoples Front (TNPF) Tuesday evening. Politicians and activists from Tamil Nadu and the diaspora addressed the mourners paying tribute through phone calls at Theeruvil grounds. Defying the order by SLA soldiers to remove the black flags, people of Vadamaraadchi closed their shops and flew black flags.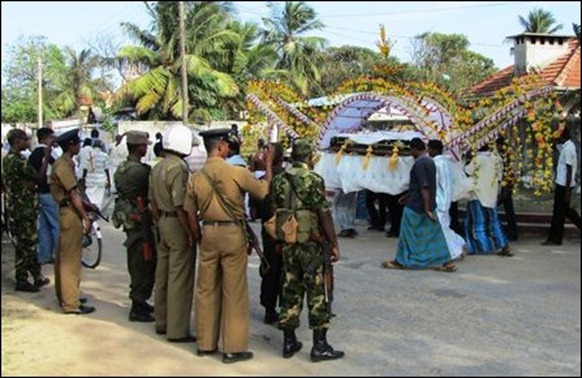 The Sri Lankan soldiers were seen busy removing the black flags.
The casket with the remains of late Parvathi Amma was taken in procession from Theeruvil grounds to her daughters house in Valveddiththu'rai for last rites and from there taken in procession through Tho'ndaimaanaa'ru VVT Road and through Point-Pedro VVT Road and cremated at 4:30 p.m. at Oo'rani central cremation grounds.
Mr. Pirapaharan's blood relative, Mr. Changkaranaarayanan conducted the final rites.
The occupying Sri Lankan military had deployed soldiers every 10 meters along the route, intimidating the mourners by videotaping and photographing them deploying armored vehicles and civil clad intelligence operatives.
Almost everyone reaching Theeruvil grounds and the house where last rites were held, was checked by the SLA soldiers and journalists were harassed.
Tamil Nationalist Movement leader Pazha Nedumaaran, MDMK General Secretary Vaiko, Naam Thamizhar leader Seeman, VCK leader Thirumavalavan and several other personalities addressed the mourners who were gathered at Theeruvil grounds before the final rites.
Several politicians including TNA parliamentarian Yogeswaran from Batticaloa, Siva Sakthi Anandan from Vavuniyaa, Saravanapavan, Suresh Premachandran from Jaffna, Sritharan from Vanni, former TNA parliamentarians and TNPF leaders Gajendrakumar Ponnampalam, Selvarajah Kajendren and Pathmini Sithamparanathan took part in the funeral.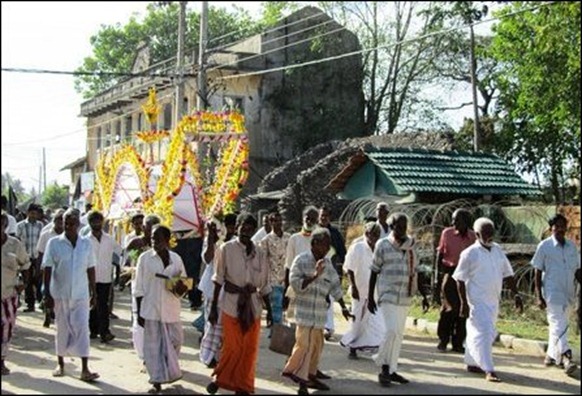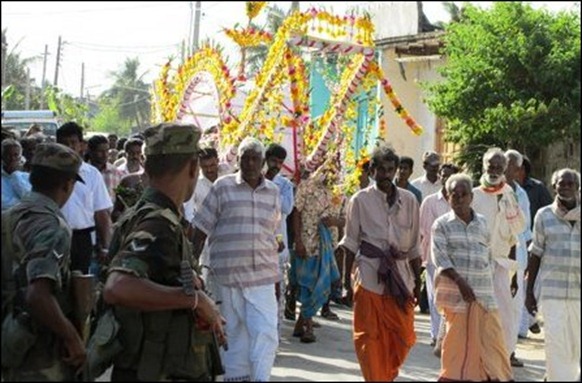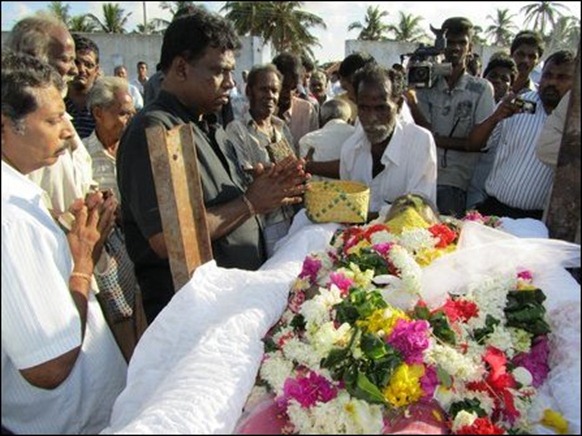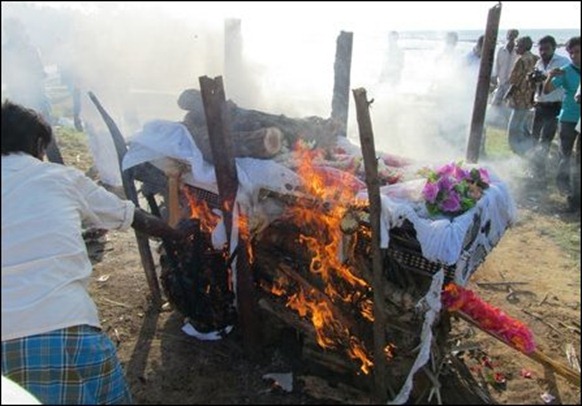 (For updates you can share with your friends, follow TNN on Facebook, Twitter and Google+)