TNA rejecting 13th Amendment is crucial to spirit of Tamil national polity: TNPF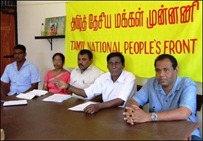 Tamil National Peoples Front (TNPF) will boycott elections to Provincial Council, an outfit  of the 13th Amendment that has to be rejected, said Mr. Gajendrakumar Ponnampalam, Vice President of TNPF in a press meet held in Jaffna Wednesday. The TNPF is prepared to work with TNA on this matter and discussions are already initiated. If there is any fear that undesirable elements may exploit the vacuum, both the TNA and TNPF could jointly field suitable candidates of reputation outside of the parties to meet the situation. But it is crucial that the TNA should reject the 13th Amendment to uphold Tamil national polity. Achieving acceptance to the nation of Eezham Tamils in the island is the aim of TNPF. Territory is fundamental to continuity of the nation and chauvinistic Sri Lanka is keen on Sinhala colonisation to destroy that continuity, Gajendrakumar further said.
Two nations in one country is the very basis of the polity of TNPF. If there is any deviation then the TNPF is null and void.
But the TNPF is prepared to work with TNA and other like-minded political parties, Mr. Gajendrakumar said, citing the open announcement of the TULF that the 13th Amendment had gone null and void along with the Indo-Lanka Treaty of 1987 and it had brought in no benefits to Tamils.
(For updates you can share with your friends, follow TNN on Facebook, Twitter and Google+)