TNPF announces Central Committee, prepares party constitution
Popular Economics teacher Mr. Sinnadurai Varatharaja and former TNA parliamentarian Mr. Selvaraja Kajendran have been respectively announced as President and General Secretary of Tamil National People's Front (TNPF), in a press meet held in Jaffna Wednesday by the TNPF. Former TNA parliamentarians, Mr. Gajendrakumar Ponnampalam and Ms. Padmini Sithambaranathan, as well as Mr. Visvalingam Manivannan, Mr. Rajakon Hariharan and Mr. R. E. Anandaraja have become Vice Presidents. Two nations in one country is the fundamental principle of the party and the constitution of the party would be announced within three months, the committee members said.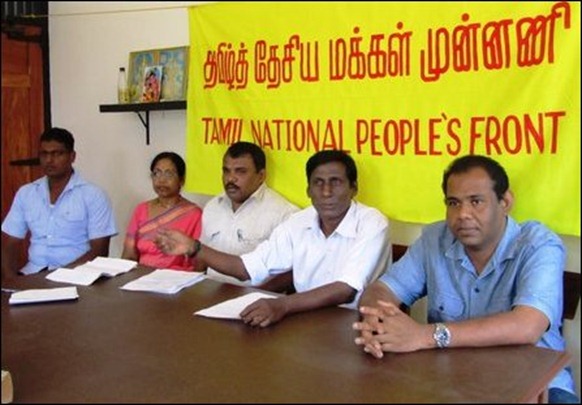 The party also announced the names of the Treasurer, Assistant Secretary, Youth Wing Organiser, Women's Wing Organizer, Campaign Secretary and other members of the committee.
Conducting the press meet and announcing the party decisions, Mr. Varatharaja, Mr. Kajendran, Mr. Gajendrakumar and Ms Padmini, came out with the following demands:
The registration of persons conducted by SL military in Jaffna has to be stopped immediately.
A terror campaign against Tamils is systematically being undertaken by Colombo to discourage diaspora Tamil investments and to promote Sinhala investments in the Tamil land. This has to be brought to an end.
The SL military should quit from residential areas and there shouldn't be any High Security Zones.
Sinhala colonisation and Sinhalicisation programmes in the Tamil land of north and east have to be terminated immediately.
Continued intimidation of former LTTE members and suspected members, now released has to be stopped.
Neutral investigation has to be conducted on the genocide against Tamils in the island. Such investigations should not be confined to the three years time period but should cover the earlier decades.
Sexual violations by SL military during the war need focussed investigation
The surrendered cadres have to be released and should be allowed to join their families. The 'missing' persons in custody should be released or the SL government should come out with a public statement on their position.
People kept in the prisons for a long time in the name of political prisoners should be released.
The TNPF will always support and participate any people's struggle that come forward against the oppression of Tamils by SL government, the TNPF committee members said in the press meet.
(For updates you can share with your friends, follow TNN on Facebook, Twitter and Google+)