Prof Sitrampalam visits China on invitation

The Vice President of Ilankai Thamizh Arasuk Katchi (ITAK), Professor S K Sitrampalam, representing his party, is on a visit to China on the invitation of the Chinese government, ITAK leaders said in a press meet in Jaffna Sunday. Even though the ITAK leaders said that this is a routine invitation extended to party leaders in the island, they didn't answer the question when in the past the ITAK had been invited or visited China. ITAK is the main component of the Tamil National Alliance (TNA). The Deccan College trained Dr. S.K. Sitrampalam, retired senior professor of Archaeology of the University of Jaffna, was widely appreciated by Eezham Tamils when he boldly countered the Indian Foreign Secretary Nirupama Menon Rao in Jaffna, last year.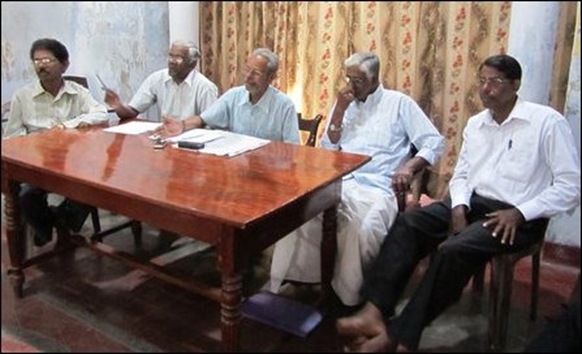 C.V.K Sivagnanam, assistant secretary of the ITAK and Administrative Secretary J.S. Kunanayagam addressing the press in Jaffna on 27 February 2011
It is widely believed that after the war the establishment in New Delhi pressurizes the TNA to function as its handmaid and to accept formulas that would lead to permanent subjugation of Eezham Tamils and deletion of their national identity.
Meanwhile, some sections in the TNA wanted to register it as a political party, doing away with the identities of the components.
In the press meet Saturday, the ITAK said that it would oppose such moves.
The component political parties of the TNA should maintain their identities and ideologies, but should unite in electoral processes to safeguard Tamil aspirations, the ITAK leaders said.
What was refused to Pirapaharan cannot be given to others is the position of Mahinda Rajapaksa. But the demanded of Pirapaharan was also the demand of Chelvanayakam and others even before, said ITAK deputy secretary Mr CVK Sivagnanam at the press meet.
Responding to the call for boycott of provincial elections by Tamil National People's Front (TNPF), the ITAK leaders said that boycotts in the past left Tamils with nothing. Control of existing institutions is important, they further said.
On Wednesday the TNPF in a press meet in Jaffna said that rejection of the provincial council based on the 13th Amendment created by the defunct Indo-Lanka agreement is crucial to uphold the national struggle of Eezham Tamils.
On concerns about controlling the existing institutions, the TNPF said that both the TNA and TNPF, while registering their rejection of the PC based on 13th Amendment, could jointly support candidates of reputation who don't belong to political parties to prevent undesirable elements taking control of the institutions.
(For updates you can share with your friends, follow TNN on Facebook, Twitter and Google+)