Occupying SL military stops re-installing MGR statue in VVT
Efforts by the people of Valveddiththu'rai in Jaffna to re-install a statue for Mr. M G Ramachandran (MGR), the Tamil film icon since 1950s and former chief minister of Tamil Nadu was stopped by the Sri Lanka Army occupying the Tamil country. A statue of MGR that existed earlier at Valveddiththu'rai was desecrated and the arms were broken by the occupying military a few months back. Eezham Tamils, especially the coastal community people, are strong admirers of the films of MGR for well over six decades. MGR was born in Kandy in the island.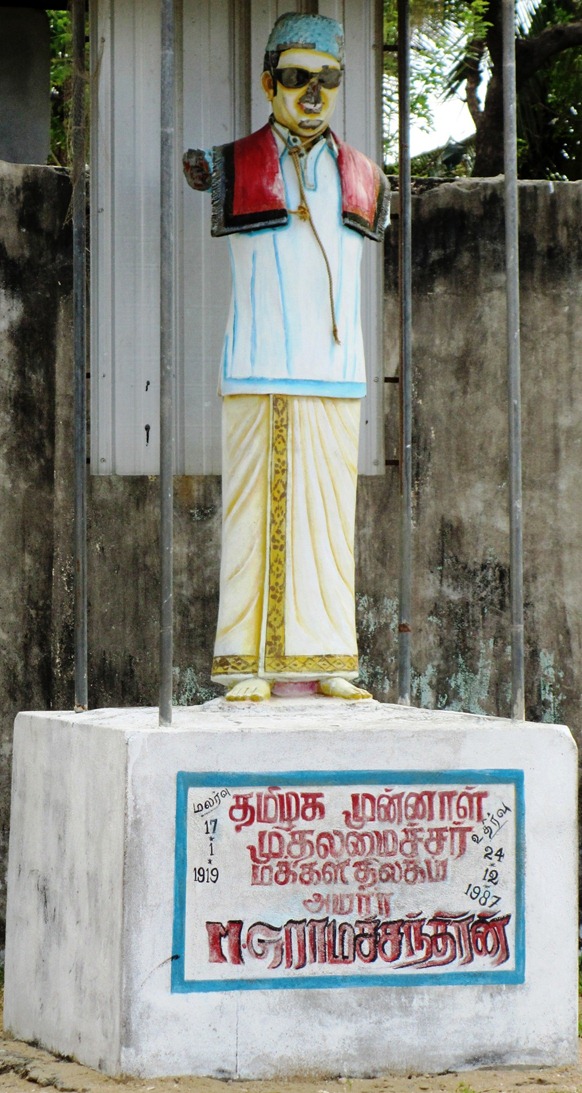 The desecrated statue of MGR
The earlier statue destroyed by the SL military was located at Valveddiththu'rai- Tho'ndaimaanaa'ru road. The MGR associations in Jaffna took the effort to re-install the statue, but the occupying forces prevent construction workers reaching the site.
Immediately after the Vanni War, Sri Lanka permitted New Delhi to build a big monument for the Indian forces (IPKF), which committed extensive war crimes against Eezham Tamils during 1987-1990. Visiting dignitaries of New Delhi establishment pay 'homage' to the monument whenever they visit Colombo.
An Indian consulate was opened in Jaffna in last November.
The statues of Mahatma Gandhi in Jaffna were also desecrated or destroyed by the occupying SL Army. But efforts are being undertaken to renovate them now.
The Indian consulate is not taking any action on the desecration of MGR statue, comment the people of Valveddiththu'rai.
Meanwhile, both New Delhi and Colombo carefully isolate Tamil Nadu from investing or sending personnel into the island, media circles in Colombo said. Indian investors and businesspersons are carefully chosen from some of the neighbouring states of Tamil Nadu or from the north of India, the media circles further said.
New Delhi and Colombo recently agreed to start passenger service shipping between Trincomalee and Visaakappaddinam (Vizag) in Andhra Predesh. Direct flight between Vizag and Colombo also has been agreed upon. Visaakappaddinam is the major naval base of India in the eastern coast.
(For updates you can share with your friends, follow TNN on Facebook, Twitter and Google+)