IMF misleading Sri Lanka's public
IMF luminaries (Mission Chief for Sri Lanka – Brian Aitken, and Head of the Asia-Pacific Department – Anoop Singh) hosted high profile and well reported press conferences and seminars last month and Resident Representative Koshy Mathai has made widely reported media interventions. They all sang the same tune – 'that's fine' – however, the picture they jointly painted is sanguinary; I guess harsher things were said behind closed doors. The picture misleads and engenders unwarranted complacency.
The IMF's fairy story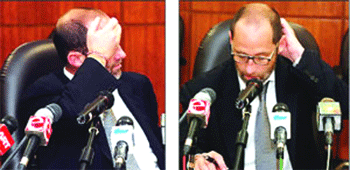 The medium term (two year) prognosis adumbrated by these worthies can be enumerated as follows.
a) Inflation can be held in check; hence the Central Bank's loose monetary policy (low real interest rates and heavy dollar buying in the local market to forestall rupee appreciation) remains an appropriate strategy.
b) The government will be able to hold the fiscal deficit down, and to track the promises it made to the IMF at the time the $2.6 billion standby facility was negotiated two years ago. That is, the deficit will decline to 6.8% of GDP in 2011 and 5.2% in 2012.
c) Sovereign debt (the sum of local and foreign debts of the government) can be brought down to 72% of GDP by the end of the fiscal year 2012. (It is above 85% now).
d) The IMF concedes the trade balance will widen, but is confident that continuing high remittances from overseas Lankan workers will ensure that the overall current account remains in surplus in 2011 and 2012.
e) The dismal 2010 Foreign Direct Investment (FDI) clouds will blow over and FDI in 2011 will be more than double to what it was the previous year.
All this is either whistling in the dark, or in some instances – a pie in the sky – not aligned to international trends and local political dynamics. I will deal with the first two of these items today since they are core issues. The next three will be dealt with next week.
Inflation
It is not clear why the IMF is so sanguine about inflation concerns in Sri Lanka at a time when potential inflation has become a major debating point everywhere else in the world. Its own headquarters in Washington is wringing its hands with worry of actual, potential or incipient inflation in most of the world's major economies – real in China and India, incipient in Europe, and potential in the US. Inflationary pressure is driven by a variety of factors – therefore they are difficult to tame, and once triggered in one of the world's major economies, becomes endemic, and small nations have the least escape space. The US Federal Reserve's dollar printing craze – the third stimulus package is at mid-throttle, and Bernanke is talking of a fourth – is fuelling worldwide inflation. Whether stimulus is the right way to spur recovery in the US is a separate matter but the IMF is hardly unaware that it is fuelling and exporting global inflation.
The second and third global factors fuelling inflation are food and commodity prices. I really don't need to list corn, wheat, rice, sugar, cocoa, dairy products and meat prices; some are at record levels. The point is that no working expert in agriculture says anything but: 'The worst is yet to come;' 'global food prices have not yet peaked;' 'they will not begin to decline for a long time.' Prices are up for a variety of reasons – adverse weather, crop losses in agricultural super-states, export restrictions, changing dietary habits and use of food grains (corn) for ethanol. In what planet have these IMF worthies taken up residence to reassure Sri Lanka that all is fine on the inflation front? At the time of writing, the February 2011 inflation numbers have just been released; up to 7.8% already.
Copper price is at an all time high, iron is very high, coal is tracking oil, as it will, and therefore rising fast (CEB, Norochcholai and Sampur beware), and then there is the big one, oil. Predicting oil prices is a challenge that not the slimiest clairvoyant or wiliest Baba will embark on, but the gentlemen of the IMF know that raw materials are up and this means worldwide inflation in these commodities and the products they enter – that is everything.
Fiscal deficit
The IMF team does concede that there will be some slippage in meeting fiscal deficit reduction targets but it attributes this exclusively to the havoc caused by the December-January floods. This overlooks structural effects that will be forced on the government by political realities. On matters contingent to the floods, expenditure will not be confined to the repair of tanks, water-courses, roads and infrastructure, but will involve supporting price subsidies whether directly by state led imports or import tariff reductions. The experience has been that food prices do not quickly decline after a major disruption but remain elevated for an extended period. This will be greatly amplified by rising global food prices and supply side shortages. The IMF's concession of only limited or temporary slippage is sanguine.
The more serious defect in the IMF's optimistic prognosis is that it fails to factor in structural changes that will have long-term consequences. The most significant will be a wage hike. The government cannot for long renege on Rajapaksa's false promise of a Rs.2500 monthly wage rise trotted out during the presidential election campaign. Increase in the real cost of living is creating pressure that cannot be resisted throughout 2011. The psychological impact on the regime of events in the Middle East is also patent; state TV ignores the uprisings and if you confine yourself to these channels you will be led to believe that tranquillity prevails on the streets of Tunis, Cairo, Tripoli, Bahrain and Sanaa.
If my prognosis that the GoSL will be forced into wage hikes and subsidies is borne out, it will have a persistent long-term impact on fiscal deficit. The IMF would have been on the ball had it factored this into its felicitous deficit reduction pronouncements.
(For updates you can share with your friends, follow TNN on Facebook, Twitter and Google+)