British Tamil businesses continue networking effort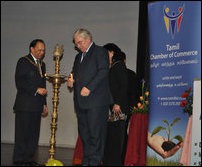 The Tamil Chamber of Commerce in UK held another introductory dinner on March 2 in Northwest London, attended by scores of local Tamil entrepreneurs. The aim of the event in Ruislip, which was addressed by Deputy Mayor of London Richard Barnes, Mayor of Ealing Rajinder Mann and Mayor of Hounslow Colin Ellar, as well as local politicians and representatives from Britain's main political parties, was to explain the TCC's goals and potential for growing Tamil enterprise and to expand its membership, organisers said.
The TCC, a community organisation whose motto is 'Unite and Excel', was established in 2010 and serves as a forum for Tamil enterprises to network, develop business possibilities and collectively negotiate better rates from major service providers and suppliers.
The first in the TCC's series of events was held mid January in East Ham.
Addressing the Ruislip event, London Deputy Mayor Barnes (Conservative) welcomed the TCC initiative, saying the small businesses are key to Britain's economic recovery, echoing comments made four days later by British Prime Minister David Cameron.
He also promised to help the TCC establish relations with the London Business Network, a government initiative to help British businesses exploit opportunities arising from the investments being made for the London 2012 Olympic Games.
Praising the Tamil community's contribution to Britain, he said he had attended the mass protests in Westminster in 2009.
Speaking a the ruling Conservative Party's spring conference on Sunday, Prime Minister Cameron argued "there's only one strategy for growth we can have now and that is rolling up our sleeves and doing everything possible to make it easier for businesses to grow, to invest, to take people on."
"Back small firms. Boost enterprise. Be on the side of everyone in this country who wants to create jobs, and wealth and opportunity," he urged.
There are five thousand Tamil-owned businesses in Britain, with a combined turnover of over £1 billion and 150,000 employees, the TCC says.
Hounslow Mayor Ellar expressed his admiration for the "determination and business skills of the Tamil community" and said he hoped to attend TCC gatherings in future years and watch its member strength multiply several times over.
A presentation of the TCC's project was given to attendees in Tamil and English.
Noting that Tamils are now active in all sectors of the British economy, including hotels, care homes, travel agents, estate agents, wedding services, wholesalers, and construction firms, along with more traditional sectors such as accountancy, medince and law, the TCC said it aimed to provide a unified voice for Tamil enterprise in the UK, and eventually internationally.
The TCC said it would provide networking opportunities, as well as training and support programmes for young entrepreneurs in areas such as web development, marketing, advertising and communication skills.
The TCC eventually also planned to provide a platform for sustainable investment in Tamil economic revival in Sri Lanka, such as by forging links with organisations like the Jaffna Chamber of Commerce.
(For updates you can share with your friends, follow TNN on Facebook, Twitter and Google+)