Tribunal rules Tamil migrant no threat to Canada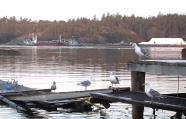 A Tamil asylum seeker accused of extremist links for living in a former rebel-controlled area of Sri Lanka is not a threat to Canada, a tribunal ruled Monday.
"The man's work for the LTTE — Liberation Tigers of Tamil Eelam designated as a terrorist organization by Canada — was not in support of its terrorist activities," the Immigration and Refugee Board said in a written decision.
"In the context of the LTTE's hegemony in the area, everyone in some way provided material support for the organization, from paying a bus fare or selling a soft drink to a soldier, teaching children in an LTTE-created school, or… fixing motorbikes or public bus engines."
The man, whose identity cannot be revealed under Canadian law, was also ordered released from detention while awaiting a decision on his refugee claim.
Known only as passenger B173 for the proceedings, he came to Canada last year aboard the rickety cargo ship MV Sun Sea as one of 492 asylum seekers from Sri Lanka. Most were detained.
Another 76 were arrested in 2009 upon arrival to Canada's west coast aboard a second freighter.
Canada and Sri Lanka alleged the migrants may have included members of the Tamil Tigers, outlawed in Canada as a terror group before their defeat in 2009 by Sri Lanka's government after a lengthy civil war.
In this case, authorities alleged the man knowingly carried out, attempted to carry out, participated in or facilitated terrorist activity as a member of the LTTE.
But the refugee board disagreed, saying: "In the context of life in the LTTE-controlled area, the evidence does not support a finding that the man crossed the line from being a mere sympathizer or supporter to a member."
Rather, it characterized work he did for the LTTE and his contact with the group as "unavoidable dealings that anyone in the area would likely have had with the LTTE."
Before its defeat, the LTTE controlled a vast area of northeastern Sri Lanka.
"Mere association with the LTTE should not make somebody inadmissible to Canada," Canadian Tamil Congress spokesman David Poopalapillai said after the ruling.
The board also noted that the man had no military training, did not distribute LTTE propaganda or solicit others to join their armed struggle, and was not involved in the group's political wing.
He was the first of 32 Tamil asylum seekers to appear before an admissibility hearing, accused of human smuggling, war crimes or belonging to an organized criminal organization or extremist group.
A next round of hearings is scheduled for March 8.
The refugee board is also still reviewing the detention of 59 others from the MV Sun Sea to determine whether they are a security or flight risk, board spokeswoman Melissa Anderson told AFP.
(For updates you can share with your friends, follow TNN on Facebook, Twitter and Google+)