Calls for UN to act on missing S. Lanka cartoonist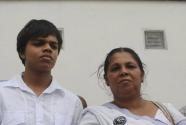 Media rights organisations on Wednesday asked UN Secretary General Ban Ki-moon to intervene in Sri Lanka over a cartoonist who disappeared 14 months ago amid threats against independent journalists.
The rights groups urged Ban to lobby Sri Lankan authorities on the case of Prageeth Ekneligoda, a cartoonist for the pro-opposition Lankaenews.com website who went missing days before the January 2010 presidential elections.
"We are well aware that Ekneligoda's disappearance is symptomatic of a broader malaise in Sri Lanka in which media workers are often victims of repression and violence," they said in a joint letter to Ban.
"Our concerns for his safety are well founded."
The five groups, including the New York-based Committee to Protect Journalists and the Paris-based RSF, or Reporters Without Borders, said there had been no proper probe by Sri Lankan authorities.
"Ekneligoda?s disappearance and the failure of the government to conduct a credible investigation underscore the degree of impunity in crimes against journalists that is all too common in Sri Lanka.
"We feel the UN should intervene considering its human rights mandate and the government of Sri Lanka's glaring failure to take action on this issue."
Rights groups have said Sri Lanka was one of the most dangerous places in the world for journalists to work with 17 killed in the past 10 years.
Two were killed in 2009. No one has been brought to justice in connection with the killings.
(For updates you can share with your friends, follow TNN on Facebook, Twitter and Google+)