Executives of TGTE-Democrats speak on Transnational Polity
 "Our aim is to strengthen the Transnational Government of Tamil Eelam and to take it to the next stage of the global struggle of Eezham Tamils," said Sasi Mahesawaran, one of the three executives of the TGTE-Democrats. "Our people believe in unity to win the struggle. The frequent questions that are asked whether the TGTE Democrats are part of the TGTE or whether they are an opposition party or whether they are an alternative TGTE," the Executives answered the questions in a panel address they gave on Saturday in Tamil.
The way the present TGTE operates impelled a mobilisation for TGTE-Democrats, said Krishanthy Sakthithasan, who was explaining about lack of democracy in the very formation of the Assembly.
The younger generation believes in a solid working programme rather than rhetoric or speeches. We will pledge our full support when there is such a working programme, said Vithya Jeyasankar, another Executive from Germany.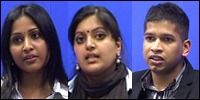 Democracy and transparency in Transnational Government are crucial to Eezham struggle. The claim that a constitution had been accepted by the TGTE Assembly and all members should pledge for it is undemocratic, because the Assembly is not complete and a constitution that hands over all the powers onto one individual, the executives of TGTE-Democrats said, adding that they would press for the electoral process of the Assembly.
(For updates you can share with your friends, follow TNN on Facebook, Twitter and Google+)