With UN Dodging on Ban's Sri Lanka Accountability Panel, Won't Confirm Receipt of Request about Disappeared Journalist
On issues ranging from press freedom to accountability for war crimes, the UN under Secretary General Ban Ki-moon can barely communicate, dodging questions by saying "we have no comment on that" or "we cannot confirm that" or "it is up to the Panel" — which reports to Ban Ki-moon.
Earlier this year, Ban's spokesman Martin Nesirky told Inner City Press that the UN system had not received any petition about disappeared journalist Prageeth Eknelygoda. Even after UN resident coordinator in Colombo Neil Buhne told the press he had received and transmitted the petition, Nesirky again said that no petition had been received.
On March 7, five prominent press freedom organization have faxed directly to Ban's office, formally asking for UN involvement in the case. On March 8 Inner City Press asked Nesirky about it:
Inner City Press: the Committee to Protect Journalists, Reporters Without Borders, and IFJ said, among two other groups, have said that they have written a letter to the Secretary-General about this case of Prageeth [Eknelygoda], a journalist in Sri Lanka that disappeared about a year ago — their letter actually quotes you, from this briefing on 18 February, but they are saying the UN should get involved in finding out what happened to this journalist; they are saying that the letter was given to Neil Buhne and they said no replacement has been named. I guess I wanted to know, can you, you know, they are pretty, I would think they would know how to deliver the letter; has this letter been received and is the UN and actually as it's been asked now for some time by the wife of the journalist, going to get involved in looking into this matter, and who will replace Mr. Buhne?
Spokesperson: Well, I am sure that international non-governmental organizations with the strong track records as the ones you have mentioned know how to deliver a letter. The United Nations also knows how to receive a letter. And it may or may not be that that letter has been received yet; I am going to check. As for the need to intercede, I understand that this is something that is being actively looked at by colleagues in the Office of the High Commissioner for Human Rights. But this is not something that I think we would have further details on at the moment. As for the replacement, as and when a replacement is named, I am sure that we will say. I don't have anything on that at the moment.
Since CPJ had publicized the filing of the letter with Ban, one might have expected Nesirky's Office to have been able to confirm receipt, and to have some response. But the previously day, March 7, Nesirky refused to answer if Ban's Panel on Sri Lanka had met with the country's Attorney General on February 23, or if its report will be public.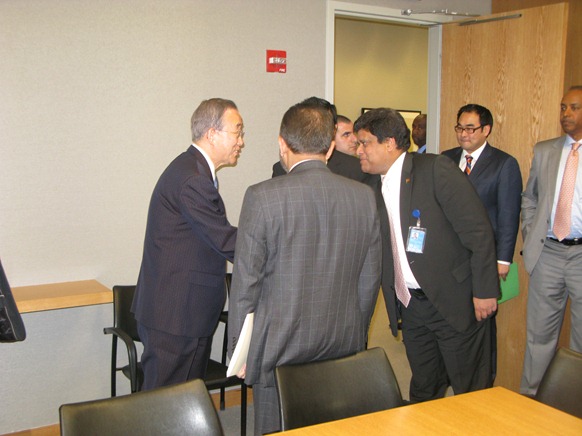 UN's Ban and Silva, Kohona looks on, ICC not shown  (c) MLee
  From the UN's March 7 transcript:
Inner City Press: I want to ask on this Sri Lanka question that I e-mailed you over the weekend. There is a report in Sri Lanka quoting UN sources, saying that after a meeting between the Attorney General of Sri Lanka and Mr. Ban and other officials, there was another meeting with, in fact, the Secretary-General's Panel. That, I just want you to either confirm or deny that, and also that the deadline has been extended for two or three weeks. Is that true and if so, why was it extended and will, in fact, the Panel travel to Sri Lanka or not?
Spokesperson: Well on the first, as you also saw, the reporting over the weekend suggested that there was a secret meeting with the Secretary-General, and you know as well as I do, because you were there, that that is simply not the case. You were there taking pictures, so the reporting may be a little bit shaky. It is, of course, for the Panel to comment on any meetings that they may or may not have had. And I don't have anything for you on that. With regard to when the Panel will submit its report, it is scheduled to be, as we have already said, this month. It is for the Panel to decide when that will take place.
Inner City Press: Who speaks for the Panel, just in the sense of were they in town? The reporting… I understand… I guess you are denying that, that report from Sri Lanka, but were the three members in…?
Spokesperson: Matthew, I said…
Inner City Press: You are saying it's shaky?
Spokesperson: I said it is for the Panel to comment on whether a meeting may or may not have taken place.
Inner City Press: Isn't it the Secretary-General's Panel?
Spokesperson: The Panel needs to do its work independently, and then be able to report to the Secretary-General. And that report, as you know, is in the making, and as soon as it is ready to be presented to the Secretary-General, it will be.
Inner City Press: And will it be public, is my last one… Will that report be actually released given the…?
Spokesperson: Again, that's for the Panel to decide, in consultation with the Secretary-General. Okay, other questions? Please?
(For updates you can share with your friends, follow TNN on Facebook, Twitter and Google+)