On Sri Lanka, UN Claims Inaccuracies in Press Freedom Groups' Petition, Passes Buck
The UN of Secretary General Ban Ki-moon, so tongue tied about Sri Lanka and whether its Panel on Accountability will as claimed travel there, on March 9 confirmed receiving a petition from press freedom groups about disappeared Sri Lankan journalist Prageeth Eknelygoda, a day after Inner City Press asked about the letter.
But UN spokesman Martin Nesirky said that the groups' letter contains "inaccuracies." Inner City Press asked Nesirky to explain. Nesirky pointed to a part of the letter that states to Ban:
"On February 18, only after public pressure, did your office say it had received her letter. U.N. spokesman Martin Nesirky told a press conference in New York that 'letter is now being reviewed. We've asked for an update on this, and will let you know when we have it.'"
The "inaccuracies"? Nesirky's quote was from the UN noon briefing of February 16, not February 18. And, Nesirky argued on Wednesday, even though he had initially said the UN system had not received a request for assistance from Prageeth's wife, his deputy Farhan Haq corrected that on February 1.
"You reported about that on February 1," Nesirky told Inner City Press, "then you asked me on February 16 again."
On February 16, Inner City Press assumed that Nesirky would explain what had been done with and on the letter. Instead he said that Prageeth's wife's letter had not been received, then issued the later correction, saying that the Office of the Spokesperson for the Secretary General "asked for an update on this, and will let you know when we have it.'"
But no update was provide from mid February until Inner City Press asked about it again on March 8.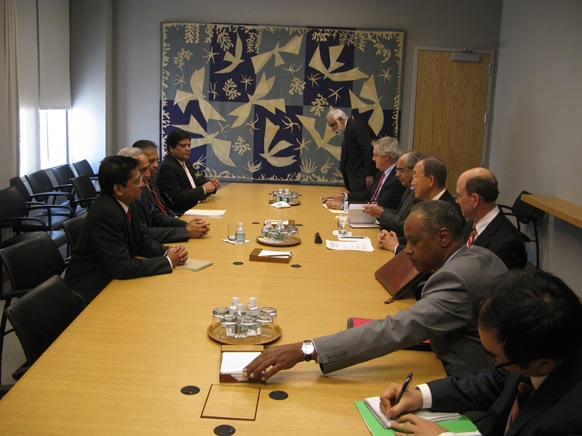 Lanka 4 incl AG, Ban & Nambiar, Prageeth not shown -or even mentioned? (c) MRLee
Even now, the answer is that the buck is being passed to the Office of the High Commissioner for Human Rights and UNESCO, an agency which tried to give an award to Equatorial Guinea strongman and practitioner of censorship Obiang.
On March 9, Inner City Press asked Nesirky if the Secretary General or his Office would do anything on the requests from Prageeth's wife and the press freedom groups, given that Mr. Ban has a direct line for example with Sri Lanka's Attorney General, with whom Ban met on February 23.
Instead, it seems that Ban and his spokesman will wait for some report back from Navi Pillay in Geneva — Nesirky made a point on Wednesday of saying that the press freedom groups' letter "was received in Geneva, that's another interesting factor." Interesting indeed.
(For updates you can share with your friends, follow TNN on Facebook, Twitter and Google+)