Australian Prime Minister questioned on Kohona at UN
Australian Prime Minister Julia Gillard when asked by Inner City Press at the UN press conference to comment on the filing to the International Criminal Court (ICC) against UN Ambassador to Sri Lanka, Dr. Palitha Kohona, for war-crimes, the Prime Minister replied, "I'm not personally aware of all details of that case. We are a supporter of the ICC and a supporter of proper legal procedure and practice, one rule… is that political leaders should not comment on legal matters that are underway."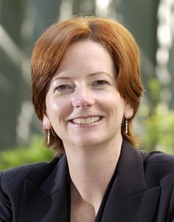 Julia Gillard, Australia's Prime Minister
Raising of the Kohona's possible complicity in the extra-judicial killing of surrendees follows the submission of a private members bill for debate on the same issue in the Australian Parliament, and discussions within the Australian Foreign Affairs Committee in the past two weeks.
Meanwhile, a London-based rights group, Institute for War and Peace Reporting (IWPR), said that the United Nation Security Council's referral of Libya to the Hague court highlights the limitations of international justice, and questioned that this political, as opposed to legal, move will undermine the court's ability to deter crimes.
IWPR added that while the UN spoke of the "widespread and systematic attacks" that have taken place in Libya, whether they are any more horrific than what has gone on elsewhere yet been overlooked by the UN's top decision-making body. IWPR pointed to Sri Lanka and said "[i]n Sri Lanka, for example, some 7,000 ethnic Tamil civilians were killed, according to the UN, when government forces clashed with Tamil rebels."
"If international justice is to become a genuine deterrent, it cannot be subjected to the political whims of countries on the Security Council," IWPR said.
(For updates you can share with your friends, follow TNN on Facebook, Twitter and Google+)