US State Department official resigns over Wikileaks gaffe
US state department spokesman PJ Crowley has resigned after calling the treatment of the man accused of leaking secret cables to Wikileaks "stupid," BBC reported. "It is with regret that I have accepted the resignation of Philip J. Crowley as Assistant Secretary of State for Public Affairs. PJ has served our nation with distinction for more than three decades, in uniform and as a civilian. His service to country is motivated by a deep devotion to public policy and public diplomacy, and I wish him the very best," Secretary of State Hilary Clinton said after accepting Mr Crawley's resignation.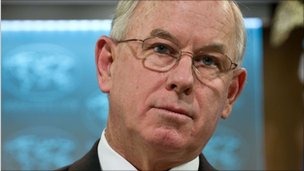 Philip Crawley, US Under Secretary for Public Diplomacy and Public Affairs
Crawley covered Sri Lanka's President Rajapakse's visit to US on January 21st as spokesperson at the US State Department.
"What is happening to Manning is ridiculous, counterproductive and stupid, and I don't know why the DoD [Department of Defense] is doing it. Nevertheless, Manning is in the right place," Crawley is reported to have said. Although Crawley's comments were on the record, Crawley claimed they were his own opinion.
The 23-year-old US army private soldier, Bradley Manning, charged in July that year with transferring classified data onto his personal computer, and communicating national defense information to an unauthorized source between November 19, 2009, and May 27, 2010. An additional 22 charges were preferred in March 2011, including "aiding the enemy," a capital offense, though prosecutors said they would not seek the death penalty. He is currently awaiting a hearing to decide whether he will face a court martial.
Manning has been has been held for 23 hours a day in a sparsely furnished solitary cell and deprived of a pillow, sheets, and personal possessions since July 2010, Amnesty noted.
On the 18th January , Manning was placed on 'suicide risk', which resulted in him being stripped of his clothes apart from underwear, and the confiscation of his prescription glasses for most of the day, which Manning says left him in "essential blindness," Amnesty accused US of inhumane treatement.
"The unauthorized disclosure of classified information is a serious crime under U.S. law. My recent comments regarding the conditions of the pre-trial detention of Private First Class Bradley Manning were intended to highlight the broader, even strategic impact of discreet actions undertaken by national security agencies every day and their impact on our global standing and leadership. The exercise of power in today's challenging times and relentless media environment must be prudent and consistent with our laws and values," Crawley said in a statement after tendering his resignation to Secretary of State Hilary Clinton.
(For updates you can share with your friends, follow TNN on Facebook, Twitter and Google+)